Mango Red Pepper Salad with Spice Crusted Tuna and Lime Dressing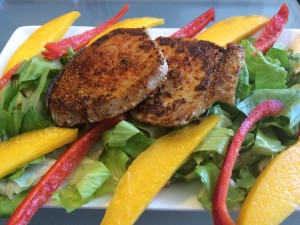 Recipe by Charna Sheinfeld, Nutrition Intern
Serves 3

Ingredients:

3 cups shredded romaine lettuce
1 medium ripe mango, sliced thinly
1 medium red pepper, sliced thinly
3 tuna steaks, 4 ounce each (preferably sushi grade)
1/2 teaspoon salt
1/4 teaspoon pepper
1/2 teaspoon paprika
1/4 teaspoon cayenne pepper
1/2 teaspoon curry powder
1/2 teaspoon garlic powder
1 teaspoon olive oil
Dressing: 
2 tablespoons extra virgin olive oil
2 tablespoons lime juice
1 1 1/2 tablespoons extra virgin olive oil
1/2 teaspoon salt
Instructions: 
Prepare three individual plates. On each plate, place 1 cup romaine lettuce, 1/3 cup sliced mango and 1/3 cup sliced red peppers.
Wash and pat dry the tuna steaks.
Mix the seasons together to create the spice rub for the tuna steaks. Dip both sides of the tuna steaks into the spice mixture.
Heat the olive oil in a saute pan.
Add the tuna steaks and saute on medium high heat for 2-3 minutes on each side, until golden brown and a slight crust forms.
Mix all the dressing ingredients together in a jar. Shake well.
Drizzle the salad with the dressing, then place sauteed tuna steak on top of the salad.
Serve immediately.
Serving Size: 1 tuna steak over salad
Nutrition Facts: 
Calories: 290
Total Fat:  12 gm
Saturated Fat: 2 gm
Monounsaturated Fat:  8 gm
Polyunsaturated Fat: 1.5 gm
Cholesterol: 45 mg
Protein: 30 gm
Carbohydrate: 16 gm
Dietary Fiber : 3 gm
Sodium: 540 mg
Bonnie R. Giller, MS, RD, CDN, CDE  • BRG Dietetics & Nutrition, P.C.
brghealth.com • (516) 486-4569