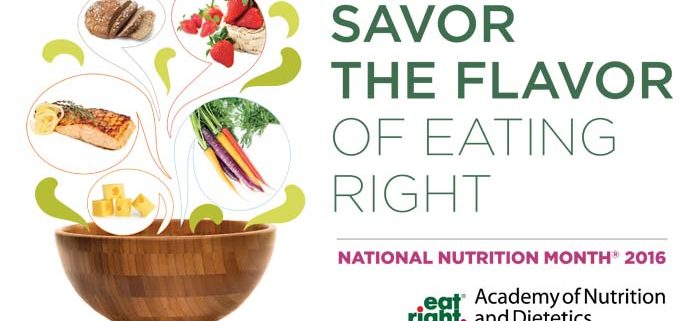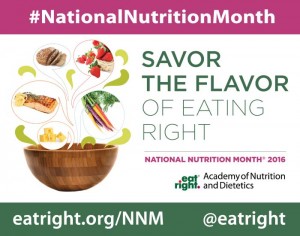 Every year, the Academy of Nutrition and Dietetics designates the month of March as National Nutrition Month. This honorary month was established to educate and celebrate the benefits of making healthy choices. Of course if it were up to me, every month would be National Nutrition Month. But hopefully you'll find ways to take this information with you for the rest of the year.
Take advantage of this time to learn more about this year's theme and spread awareness about ways to make your life a little bit healthier and a little bit happier.
Savor the Flavor of Eating Right
This year's theme for National Nutrition Month is "Savor the Flavor of Eating Right." This theme is more than just a clever headline. It embraces the concept that eating right does not mean you have to succumb to bland food or the same old thing night after night. It encourages you to get creative and incorporate new flavors and different cultures within your meals.
There are tons of ways to add flavor without adding sugar and salt. Seasonings are a great way to add some zing without adding too many calories, fat, sugar, or salt. There are garlic, onions, herbs, spices, citrus, honey, soy sauce, chili, peanuts and many more as viable options to take with you to the table. Each add a unique touch and may relight the spark in your dull meals. When it comes to seasoning, I encourage you to try them all.
Embrace the New!
Your palate is a part of your body that is always evolving.  Embracing new cultures' cuisines will keep your taste buds on their toes. The Academy of Nutrition and Dietetics offers a wonderful list of flavors you should try this month from a variety of beautiful countries.
China: Low-sodium soy sauce, rice wine, ginger
France: Thyme, rosemary, sage, marjoram, lavender, tomato
Greece: Olive oil, lemon, oregano
Hungary: Onion, paprika
India: Curry, cumin, ginger, garlic
Italy: Tomato, olive oil, garlic, basil, marjoram
Mexico: Tomato, chili, paprika
Middle East: Olive oil, lemon, parsley
Morocco/North Africa: Cinnamon, cumin, coriander, ginger
West Africa: Tomato, peanut, chili.
This month, step outside your comfort zone and challenge yourself to try one new authentic cuisine once a week. It may inspire you to expand new horizons and re-find the joy of eating.
Your turn to take action: Try adding some new seasonings to your favorite meals! Let me know what you think in the comments below.
Like this post? Share it!
http://brghealth.com/brg/wp-content/uploads/2016/03/national-nutrition-month.jpg
550
700
Bonnie R. Giller
http://brghealth.com/brg/wp-content/uploads/2017/12/BRG_Headerwpic_2.png
Bonnie R. Giller
2016-03-07 09:58:43
2016-03-07 11:02:08
March is National Nutrition Month