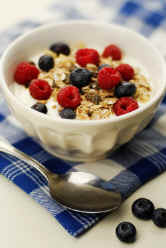 Take a Bite into Healthy Snacks
By Charna Sheinfeld and Samantha Baturin, Nutrition Interns
Join us and the dietitians around the country as we celebrate National Nutrition Month®! The American Dietetic Association (ADA) annually sponsors nutrition education campaigns during the month of March to promote healthy eating and lifestyles. March is a fitting time for this because it is after the winter holidays where people may have strayed from their healthy eating and lifestyle habits. As the winter is coming to an end, this is a perfect time to do some spring cleaning in your kitchen and to reboot your healthy lifestyle.
This year the National Nutrition Month® theme is "Bite into a Healthy lifestyle" which encourages everyone to adopt healthful eating and physical activity habits. Healthy eating and daily physical activity is what helps people of all ages feel their best, work productively, and decrease their risk of developing diseases. Eating a variety of nutrient-rich foods, including vegetables and fruits, is just part of maintaining a healthy lifestyle.
One of the hardest parts of sticking to a healthy lifestyle for many that I've spoken to is staying away from highly processed snacks that are high in fat and calories. Processed snacks are not typically recommended in well-rounded, healthy eating. While many people say they are ready to stick to eating healthy meals, cravings and tempting advertisements for processed snacks often take over. Whether you have a sweet tooth that speaks up in between meals and demands an ice cream pop or a desire for something crunchy and salty, it can feel hard to resist if you are not prepared with your own craving-fighting healthful snacks.
If you find yourself craving something sweet, salty, or both, embrace "Biting into a Healthy Lifestyle" this month. It is a great time to come up with some healthy snacks and "bites" that you can stock up on so that you will be armed when those cravings strike!
Here are some recipes that includes something sweet, something salty and sweet, and something that's both smooth and crunchy.
Enjoy!
Banana Chocolate "Ice Cream" Pops
Avocado Dip with an Extra Protein Punch
Like this post? Share it!
http://brghealth.com/brg/wp-content/uploads/2012/02/iStock_000005884225XSmall_checkercereal.jpg
248
166
Bonnie R. Giller
http://brghealth.com/brg/wp-content/uploads/2017/12/BRG_Headerwpic_2.png
Bonnie R. Giller
2015-03-03 12:00:53
2015-03-02 21:32:36
March Monthly Morsels