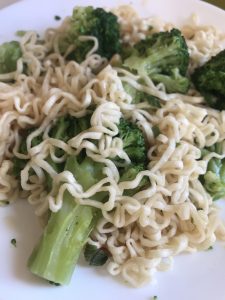 March is National Noodle Month, but that doesn't mean you are limited to just noodles!  There's a variety of "noodles"that you can explore from!  Whether you enjoy noodles in your soup or eat them in pasta dishes such as spaghetti and meatballs, you can you enjoy your noodles as you like.
Typically, when you think of noodles – do "white/wheat" noodles come to your mind?  Those are the most common "noodles" – but there are so many more options! Luckily, I'm here to fill you in on all the noodle news!
Not All Carbs Are Created Equal
Before we delve into noodle types, let's briefly touch upon the "white/wheat" noodles.
When it comes to these types of noodles, you may hear terms like"good" carbs or "bad" carbs, but this is a false representation of carbs! There isn't a "bad" option. There is a better option, one that'll provide you with a larger variety of nutrients; but that doesn't make the other option bad!Wheat noodles, or "complex carbs", are the better option in this case– they are higher in fiber, vitamin and minerals that you body needs. White noodles, or "simple carbs", are lacking in fiber and some vitamins and minerals.
Incorporating whole grains is a great way of consuming more of these complex carbs in your diet.
Now, let's delve into the noodle types!
Different Types of Noodles
Wheat-based Noodles – Choose from noodles/pastas that are made from whole-wheat flours as they are higher in fiber, keeping you satiated and supporting digestive health.
Legume-based Noodles – More and more pastas are being made from various legumes such as mung beans, chickpeas, black beans, lentils and so on. These are also rich in fiber and give your pastas an added kick of protein.
Veggie Noodles – Add in more vegetables to your dishes by trying out vegetable noodles made from zucchini or squash. Use a spiralizer to create the noodle-like shapes and season it as you would with other pastas.  The outcome might surprise you!
Sprucing Up Your Noodles
Now that you have your option of noodles, time to think about what you're mixing into it!
Mix in broccoli, green beans, spinach, kale, peppers or any other veggies of your choice to add volume and nutrients to your noodle/pasta dishes.
Add ground meat, like chicken and turkey,sliced chicken, ground tofu or shrimp to your pasta dishes for even more protein! These will compliment the flavor of your noodle dish and create a balanced meal.
Spice-up your dish with garlic and oil or pesto sauce for a new twist!
Don't be afraid to get creative with your noodle dishes! Now is the time to test out new dishes – you may be surprised to see what you like!
Your turn to take action:What noodles do you like to use in your meals?  Let me know in the comments below!
Like this post? Share it!
http://brghealth.com/brg/wp-content/uploads/2019/02/unnamed.jpg
4032
3024
Bonnie R. Giller
http://brghealth.com/brg/wp-content/uploads/2017/12/BRG_Headerwpic_2.png
Bonnie R. Giller
2019-03-11 09:00:24
2019-02-27 17:53:37
March Your Way Through Noodle Month