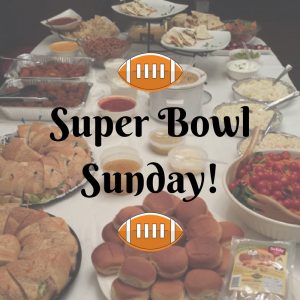 The Super Bowl is this Sunday, February 4th, which is right around the corner! Whether you're staying in or going out, it's a great time to be enjoyed with friends and family. The Super Bowl is the most televised event of the year and, regardless of which team you are rooting for, it's always an exciting time.
Of course, with the Super Bowl comes all the snacks, beverages, and, for some, stress. Whether you're hosting or attending a party, filling your plate mindfully can be a challenge. Any social situation that revolves around the TV can lead to mindless eating and picking.
While it's perfectly okay to enjoy yourself on this day, try to stay in tune with your body and its cues to see what your body is telling you. It's important to nourish your body, but easy to drop out of awareness with all the excitement around you!
If you're hosting, include some healthier options for you and your guests to enjoy. If you're going to someone's house, ask if there's a dish you can bring – I'm sure the host will appreciate the help!
5 Super Ideas for Super Bowl Sunday
1. Homemade guacamole – This is such an easy and delicious snack to make! Select the ripest avocados you can find in your grocery store, and mash them with diced tomatoes, chopped onions, cilantro and some lime juice. Serve with whole grain tortilla chips for a delicious game-day snack.
2. Hummus and pretzels – There are so many different hummus varieties in the store that you can experiment with, such as roasted red pepper, garlic, or black olive. Try buying a couple and pairing it with pretzels for a crunchy snack! You can also serve it with carrots or celery.
3. Veggies and homemade Greek yogurt dip – A crudité platter is a classic appetizer at most sporting events, but how about a twist – cut up some vegetables and pair it with a homemade dip that is sure to be a crowd pleaser! Combine low-fat Greek yogurt with dill and garlic powder and top with black pepper to taste.
4. Grilled chicken sliders – If you're looking for something hearty, try these grilled chicken sliders. Simply grill boneless, skinless chicken breast with the seasonings of your choice, and place onto whole-wheat slider buns. You can put out various toppings for your guests to personalize their slider.
5. Turkey Chili – This is always a fan favorite, and can be so customizable depending on your preferences! This can typically be made in a slow-cooker, which also makes it an extremely easy option to prepare. You can serve this on its own as a meal, or have it as an appetizer and serve with whole grain tortilla chips or whole wheat bread!
Remember, the focus of Super Bowl Sunday does not have to be all about the food. Make sure you're taking advantage of this time to enjoy the game and to catch up with friends and family.
Your Turn to Take Action: What are your favorite Super Bowl meals? Let me know in the comments below!
Like this post? Share it!
http://brghealth.com/brg/wp-content/uploads/2018/02/Happy-Super-Bowl-Sunday-3.jpg
800
800
Bonnie R. Giller
http://brghealth.com/brg/wp-content/uploads/2017/12/BRG_Headerwpic_2.png
Bonnie R. Giller
2018-02-02 09:00:49
2018-01-31 20:59:49
Meal Ideas Perfect for the Big Game!