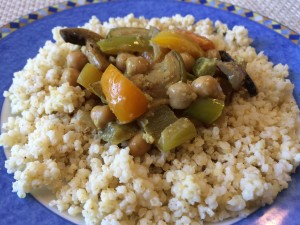 Are you tired of your go-to grains and are in the mood to try something new? Look no further than millet, an ancient grain that has been long forgotten! Millet is similar to quinoa in that it is a smaller, seed-like grain, and was once a staple in diets across the world. It has even been traced back to Switzerland during the Stone Age!
Much of the world has "forgotten" about millet, however, it does continue to be a staple for those living in India, Africa and Asia. This unique grain is versatile and nutritious as well as delicious, which is why I encourage you to give it a try!
Health Benefits
If you happen to have Celiac disease or if you choose to be gluten-free for another reason, this grain is perfect for you. Millet's seed is naturally gluten-free and can be an easier way to choose gluten-free foods without compromising on all the nutrients in grains.
Millet is a good source of fiber, which aids in promoting bowel regularity, reducing your cholesterol and helping you feel fuller for longer.  It is also loaded with many vitamins and minerals, such as:
Magnesium,which aids in maintaining your bone health and can decrease inflammation in your body.
Potassium, which works with sodium to help regulate your blood pressure.
Phosphorus, which, like magnesium, plays a role in your bone health.
Copper, which has antioxidant properties and is required to make collagen, the major structural protein in your body.
Manganese, which helps maintain the integrity of your skin and has a role in blood sugar control.
Cooking with Millet
Millet is a pretty simple grain to cook and takes about 30 minutes in total. In general, follow these simple steps:
Mix 1 cup of raw millet with 2 cups of water or broth in a pot.
Bring the mixture to a boil, then cover and lower the heat to a simmer.
Let simmer for about 15 minutes, until the grain has absorbed all of the water
Remove from the heat, fluff with a fork and let cool for 10 minutes and enjoy!
The best part about this grain is that you can get as creative as you want! It goes with most foods, so you don't have to worry about what meals you can add it too.  Here are a few ideas you can try:
Serve cooked millet as a breakfast porridge with your favorite nuts and fruits.
Add ground millet to bread and muffin recipes.
Toss cooked millet with your favorite chopped vegetables, protein source and a vinaigrette. Viola, you have a delicious meal!
If you are looking for a great recipe to try out for dinner tonight, check out my recipe for Vegetable Curry Sauce over Millet that will be sure to impress!
Your turn to take action: How will you add millet to your meals this week? Let me know in the comments below!
Like this post? Share it!
http://brghealth.com/brg/wp-content/uploads/2015/06/Retake-Vegetable-Curry-Sauce-over-Millet-2.jpg
2448
3264
Bonnie R. Giller
http://brghealth.com/brg/wp-content/uploads/2017/12/BRG_Headerwpic_2.png
Bonnie R. Giller
2018-04-16 09:00:22
2018-04-15 14:34:02
Millet, The Forgotten Grain