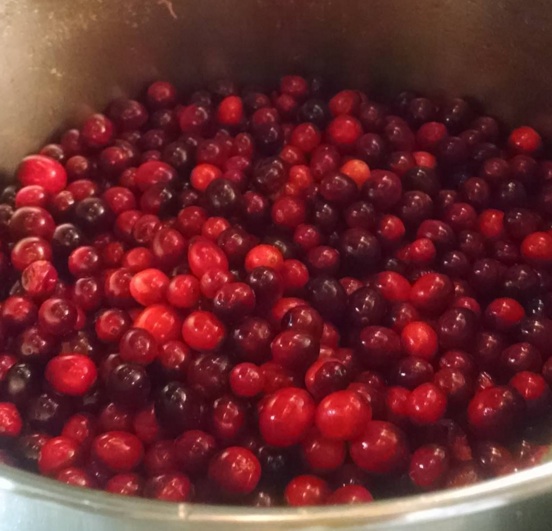 Did you know that October is National Cranberry Month? Cranberries add great color to your meals and offer a refreshing taste.  The 2015 Dietary Guidelines for Americans recognize cranberries as a nutrient-dense fruit!  They are a great source of antioxidants and have anti-cancer properties.
Cranberry Facts
According to a study conducted by the USDA, cranberries are considered one of the top five foods with the highest antioxidant content per serving!
Cranberries are one of the few fruits native to North America.
Many cranberries are water-harvested, which means they are grown in bogs located in the wetlands. Bogs are low-lying vines in beds layered with sand, peat, gravel and clay that thrive off of special combinations of soils and water properties found in wetlands.
Cranberries are primarily grown in five U.S. states – Massachusetts, Wisconsin, New Jersey, Oregon and Washington.
Ripe cranberries will bounce!
Health Benefits
Cranberries are full of health benefits for your whole body.  Some of the health benefits include:
Maintaining urinary tract health – this is one of cranberry's best-known benefits.
Protecting your brain from neurological damage.
Reducing your risk of atherosclerosis by neutralizing harmful free radicals in your body with its high phytochemical and antioxidant content.
Reducing your incidence of certain infections.
Decreasing inflammation associated with chronic disease.
Supporting digestive health.
Preparing Cranberries
Cranberries are not as fragile as blueberries, but you should still handle them with care.  To wash them prior to use, place the cranberries in a strainer and briefly and gently rinse under cool running water.  If you plan on eating frozen cranberries in recipes that do not require cooking, thaw them well and drain.  If you're going to use frozen cranberries in a cooked recipe, keep them unthawed for maximum flavor.  Just extend cooking time by a few minutes to accommodate for the frozen cranberries.
Enjoying Cranberries
Replace vinegar or lemon with cranberries when you are dressing your salads. Toss the greens with a little olive oil and then add a handful of raw cranberries for tartness.
Make a fruit salad with cranberries, pineapple chunks, orange sections and a sweet apple. The combination of these fruits will balance the cranberry's tartness.
Add dried cranberries instead of raisins to some of your favorite recipes for more color and flavor! Rice pudding, quick breads, muffins or stuffing all taste great with cranberries.
Sprinkle dried cranberries over oatmeal or dry cereal.
Make your own nut mix with dried cranberries for a delicious snack.
When shopping for cranberries, choose fresh cranberries that are full, plump, firm and deep red in color.  Don't be afraid to stock up on cranberries in the winter months because they freeze very well!  When kept in an airtight container cranberries can stay fresh for up to nine months!
Your Turn to Take Action: How will you incorporate cranberries into your meals this week?
Like this post? Share it!
http://brghealth.com/brg/wp-content/uploads/2016/10/cranberries.jpg
531
552
Bonnie R. Giller
http://brghealth.com/brg/wp-content/uploads/2017/12/BRG_Headerwpic_2.png
Bonnie R. Giller
2016-10-21 09:00:05
2016-10-19 14:21:57
National Cranberry Month