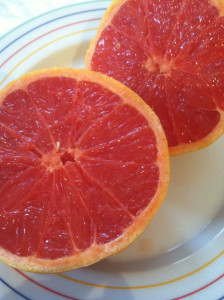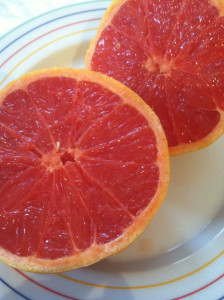 When you think of citrus fruits, you probably first think of oranges, not grapefruit, right?  Hence why grapefruit is often considered the forgotten citrus. But, there is nothing that should be forgotten about it!  February is National Grapefruit Month and is the perfect time to learn more about this delectable fruit.
Grapefruit got its name because of the way it grows in clusters on trees, similar to grapes.  They date back to Barbados in the 1700s and were introduced to Florida in 1820s.  To this day, Florida is still the major producer of grapefruit with California, Arizona and Texas close behind.  You can also find grapefruit in Israel, South Africa and Brazil.
Grapefruit Varieties
There are three types of grapefruits: white, pink and star ruby.
White grapefruit is the most traditional grapefruit type and is a favorite among commercial farmers. The flesh of the fruit is pale yellow and the juice is colorless.  This type is usually used for juices and syrups and has a tart flavor.
Pink grapefruit is typically pale to light yellow and gets its pinkness from the antioxidant lycopene. The flesh is pulpy and tender and the juice is colorless.  It has a sweeter taste compared to white grapefruit.
Star ruby (red) grapefruit has a deep reddish flesh and juice. Similar to pink grapefruit, it gets its color from lycopene.  This type is smaller than the white and pink varieties, but is sweet like pink grapefruit.
Nutrition
Like all citrus fruits, grapefruit is an excellent source of vitamin C.  Vitamin C helps to support your immune system and has anti-inflammatory properties.  Red and pink grapefruit is rich in lycopene, a carotenoid that has anti-tumor activity.  It is also a good source of vitamin A and copper.  Copper is a key mineral that aids in building strong tissue, maintaining blood volume, and producing energy in your cells.
Grapefruits are a good source of fiber, specifically pectin, a type of soluble fiber.  Soluble fiber can help lower you cholesterol levels.  It also slows the absorption of sugar to help improve blood sugar levels.
Shopping for Grapefruit
Shopping for grapefruit can be intimidating if you've never done it before.  Choose one that is heavy in size, as that indicates it has thin skin and a higher concentration of juicy flesh.   It should be firm but the skin does not have to be perfect, as discoloration and scratches do not impact the taste quality.  Avoid ones that have overly rough or wrinkled skin.
You can purchase grapefruit throughout the year, but they are in the height of their season right now.  This means they'll have a lot of flavor and should be less expensive.
Here are 4 ways you can enjoy grapefruit today:
Just as it is! You can eat a grapefruit in the rind. Cut the grapefruit in half, or like an orange, and scoop out the flesh.
Add to a salad. Like most fruits, grapefruit can be added to your salads.  After removing the skin, cut up the flesh into bite sized pieces and add it to your salad.  Pair with feta cheese, walnuts and vinaigrette for the perfect salad.
Grapefruit salsa. Dice up grapefruit and mix with lime, caramelized onions, diced jalapeno and diced avocado. This salsa goes great with salmon, whole-wheat crackers or on tacos!
Grilled grapefruit. If you want to be adventurous, try grilling the grapefruit to caramelize the natural sugars and bring out the flavor. Cut it in half and grill it face-side down for 5 minutes.  Top with honey and enjoy it for a sweet treat.
It is important to note that grapefruits are known to have interactions with statins and a few other pharmaceutical drugs.  Check with your pharmacist or doctor to see if there is a potential interaction with the medications you are taking.
Your Turn to Take Action: What's your favorite way to eat grapefruit?  Let me know in the comments below!
Like this post? Share it!
http://brghealth.com/brg/wp-content/uploads/2017/02/grapefruit-1.jpg
300
224
Bonnie R. Giller
http://brghealth.com/brg/wp-content/uploads/2017/12/BRG_Headerwpic_2.png
Bonnie R. Giller
2017-02-10 09:00:21
2017-02-06 12:27:38
National Grapefruit Month