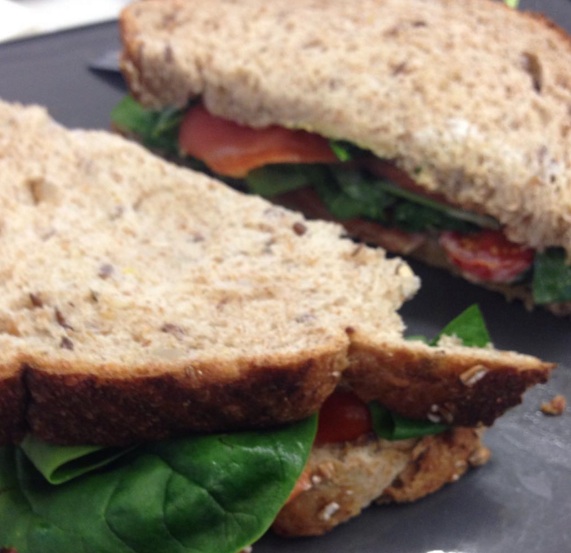 Sandwiches are the classic lunch time food but they often get a bad rap because of the myth that bread is bad. However, when a sandwich is made right it can be the perfect complete meal containing each main food group all packed together in a yummy portable way. Since August is National Sandwich Month, celebrate by trying some new healthy takes on the classic lunch food.
Choosing Breads
When making a sandwich always choose whole wheat bread, wraps or rolls.  Whole grain products provide you with fiber and essential nutrients that are lost during processing.
When looking for whole grain bread in the grocery store, check the food ingredients list. If the first ingredient mentions a whole grain like oats, barley, whole wheat or brown rice then it's good to go. If it says simply "wheat", semolina, enriched flour, bran or wheat germ then this is a refined grain product. Refined grains will typically spike your blood glucose, making you hungrier sooner.
Picking Meats
Always choose lean meats for your sandwich.
Lean turkey, roast beef, ham or low-fat luncheon meats are better options than bologna or salami, which are higher in fat and sodium.
Shredded tuna is a great alternative to high-sodium luncheon choices and it contains Omega-3, an essential fat.
Chicken cutlets taste great on a sandwich and offer a high protein, low-fat option.
If you like tuna or chicken salad, swap out making them with mayo and use low-fat plain yogurt instead (or even avocado).
Tofu tastes great on a sandwich too.
Toppings Galore
Veggies are a great way to add volume to your sandwich while adding important nutrients and fiber.
Lettuce and tomatoes are traditional, and delicious, toppings.
Avocado is a delicious healthy fat that pairs well with sandwiches.
Onions and cucumbers add a nice crunch.
Spinach can be used in place of lettuce for an extra dose of iron.
Sliced zucchini, red bell peppers and grated carrots will add more flavor and antioxidants.
What about Cheese?
Cheese is a classic favorite on sandwiches, but that doesn't change the fact it is high in saturated fat.  Low-fat cheese can replace full-fat cheeses, and still add extra protein and boost your calcium intake.
A slice of low-fat Swiss, mozzarella or any other cheese can give your sandwich a tasty kick.
Opt for fresh cheeses in place of processed cheeses.
Choosing Spreads
What's a sandwich without the spreads right? Typical spreads like mayo or dressings can add extra fat and calories to your sandwich without you noticing.   Here are some tips to keep the added calories and fat from condiments to a minimum:
Swap mayo for avocado or hummus.
Use low-fat Greek yogurt-based dressings or choose low-fat dressings.
Be mindful of the serving sizes!
Sandwich Twists
There are so many ways to make the perfect sandwich, you really can't go wrong!!  Get creative and switch up the protein and toppings so you don't get bored of the same thing every day.
Choose egg whites as your protein.
Add fruit, like apples, pears, and pineapples, for a little sweetness.
Skip the animal products altogether and make a vegan/vegetarian option with tofu slices, lots of veggies, avocado and hummus. Grill your veggies for even more flavor!
Enjoy a peanut butter and banana sandwich.
Top a slice of warm bread with a Greek salad.
Do you know the best part about sandwiches?  They are super easy to take along with you to work, school and on the road.  Make your sandwich at home so you know what (and how much) is going in it!
Your turn to take action: Try out your own healthy sandwich recipe and let us know your favorite combination!
Like this post? Share it!
http://brghealth.com/brg/wp-content/uploads/2016/08/sandwich1.jpg
553
571
Bonnie R. Giller
http://brghealth.com/brg/wp-content/uploads/2017/12/BRG_Headerwpic_2.png
Bonnie R. Giller
2016-08-15 09:00:18
2016-08-11 13:27:17
National Sandwich Month