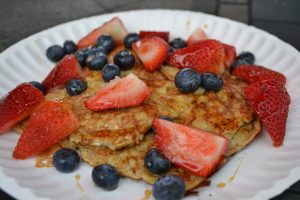 This week is National School Breakfast Week!  This is a weeklong celebration of the school breakfast program that is always celebrated during the first full week in March.  It highlights how eating a nutritious breakfast helps children fuel up for success in the classroom and beyond.  The theme for this year's celebrations is "Take the School Breakfast Challenge."
The School Breakfast Program makes it possible for all school children in the United States to receive a nutritious breakfast every school day. In 2015 the School Nutrition Association conducted a survey, which revealed 96% of schools said their student participation increases during National School Breakfast Week.  The movement towards increasing breakfast participation among schools in the US is an important one, as there is a strong association between eating a healthy breakfast and a child's energy level and academic performance.
Why Breakfast?
Breakfast provides your body with the energy it needs to start your day!
Making breakfast a part of your daily routine can aid in weight loss and weight management, control blood sugar levels, lower cholesterol, improve energy and concentration, and increase your daily intake of nutrients.  Breakfast is an important meal for everyone, but it is especially important for children in schools who are in the critical stages of growth and development.
Though breakfast is the most important meal of the day, many families feel that their busy schedules aren't conducive to making a balanced meal for themselves or their children every morning.  Often times, children are fed grab-and-go packaged breakfasts that are full of fat and sugar and void of essential nutrients.  That is why school participation in the breakfast program in which nutritious foods are provided to students is essential for improving the health and academic success of children nationwide.
According to the Food Research and Action Center (FRAC), children who eat school breakfast are more likely to:
Reach higher levels of achievement in reading and math
Have better concentration
Be more alert and retain more
Maintain a healthy weight
Healthy Breakfast Choices
This week, take the time to talk with your children about the importance of eating breakfast before school.  Whether or not your school district participates in the school breakfast program, you should encourage eating a balanced breakfast in your own household.  Incorporate whole grains, lean protein, fruit, vegetables and low-fat dairy.  Examples of healthy breakfast choices include:
Whole grain toast with a scrambled egg, low-fat cheese, tomato and a piece of fruit
Low-fat yogurt with berries, nuts and low-fat granola
Fruit and yogurt smoothie with a granola bar
Oatmeal made with fat-free milk, raisins and fruit
Hard-boiled egg, a banana and a glass of fat-free milk
Whole grain cereal with fat-free milk and fruit
Whole grain English muffin with low-fat cheese, avocado and an egg
Whole grain waffle with peanut butter, fruit and a glass of low-fat milk
Cereal for Breakfast
Cereal can be an excellent way to start the day. Did you know National Cereal Day is also this week on March 7? Healthy, whole grain cereals are a quick, convenient and tasty way to get some nutrients in first thing in the morning, especially if you are in a rush.  A bowl of cereal can provide fiber, iron, and B vitamins, with very little fat.
4 tips to choose a healthy cereal:
Choose cereals made with only whole grains.
Keep sugar to 6 grams or less per serving.
Has greater than 5 grams of fiber per serving.
No hidden fat!
Don't rely on the picture on the box! You must read the nutrition facts panel.
Your turn to take action: What are some breakfast foods your children love to eat before school? Let me know in the comments below.
Like this post? Share it!
http://brghealth.com/brg/wp-content/uploads/2017/03/Breakfast.jpg
3072
4608
Bonnie R. Giller
http://brghealth.com/brg/wp-content/uploads/2017/12/BRG_Headerwpic_2.png
Bonnie R. Giller
2017-03-06 09:00:09
2017-03-01 14:15:55
National School Breakfast Week- Take the Challenge