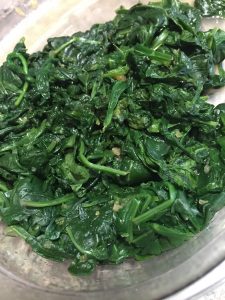 St. Patrick's Day may be over, but we can still enjoy some festive green for National Spinach Day on March 26th! This day is a great time to focus on all of the health benefits spinach has to offer, as well as its versatility for recipes.
National Spinach Day is a great time to learn some interesting spinach facts that you may not already know! For instance, did you know that spinach originated in Persia, where it was then introduced to ancient China? In France, it grew in popularity because of queen Catherine de Medici, who loved the vegetable so much she stated it had to be served with every meal. Because she was born in Florence, dishes that are made with spinach are titled "Florentine" in her honor.
4 Fantastic Spinach Benefits:
1. Water soluble vitamins: spinach is jam-packed with essential B vitamins, as well as vitamin C. This combination means it's great for providing energy and improving immunity. B vitamins play an important role in allowing your body to convert food into fuel, while vitamin C helps to keep your immune system running properly to ward off any sickness.
2. Fat soluble vitamins: spinach is also loaded with vitamins A, E, and K. Vitamin A is important for eye health, as well as healthy bones and skin. Vitamin E works as an antioxidant in your body, helping to counteract the effects of free radicals that can damage your cell. Vitamin K helps to regulate blood clotting and aids in calcium transport throughout the body, which helps to reduce the risk of bone loss and fractures.
3. Minerals: although it has several, the top minerals found in spinach are manganese, iron, and calcium. Manganese is crucial for bone development and wound healing, and also acts as an antioxidant. Iron is crucial for oxygen transport throughout the body, as well as the synthesis of various neurotransmitters such as dopamine and serotonin. Calcium is well known for its function in bone health, but it also aids in nerve functions.
4. Phytonutrients: in addition to its vitamins and minerals, spinach also contains various phytonutrients, which give it anti-inflammatory benefits. This helps to improve circulation and maintain a healthy digestive tract!
Cooking with Spinach
Spinach can be purchased either fresh, frozen, or canned. If buying fresh spinach, be sure to select a bunch that is crisp and green, without ripped leaves or browning. This will ensure you are getting the most nutrient bang for your buck!
With Passover approaching, there are many ways that you can fit this vegetable into a dish your entire family will love. If you are feeling a little stumped on a great spinach dish, try this Spinach Pie recipe from Passover the Healthy Way Cookbook.
Spinach Pie
Serves: 8
Serving size: 1 slice
Ingredients:
2 tsp. olive oil
2 lbs. fresh spinach or 2 (10 oz.) packages thawed frozen spinach
2 cups chopped scallions, including some green tops (~12)
1 cup matzoh meal
1 cup chopped fresh dill
8 egg whites
4 tbsp. lemon juice
2 whole matzoh
Salt and pepper to taste
Instructions:
Preheat oven to 350 degrees F. Spray the bottom and sides of a shallow 2-quart baking dish with non-stick cooking spray. Set aside.
Clean the fresh spinach, if using, removing the thick stems; chop coarsely (you will have about 8 cups).
Heat olive oil in a heavy skillet. Add the scallions and, after a couple of minutes, the spinach. Stir until wilted and well combined. Stir in the matzoh meal and combine well, using a wooden spoon. Add the dill. Remove the pan from the heat.
Beat the egg whites with the lemon juice until frothy, 4 or 5 minutes. Add the spinach mixture, salt, and pepper to taste.
Break the whole matzohs and scatter the pieces on the bottom of the sprayed pan. Pour the spinach mixture into the pan. Bake for 30-45 minutes, or until the top is nicely browned. Serve warm.
(You can find this and other great recipes here.)
With spinach, the possibilities for creative, delicious, and healthy meals are endless! You can add spinach to omelets, pasta, homemade pizza, sandwiches, salads, and more. Time to get creative!
Your turn to take action: How will you celebrate National Spinach Day? Let me know in the comments below!
Like this post? Share it!
http://brghealth.com/brg/wp-content/uploads/2018/03/Spinach-fresh.jpg
3264
2448
Bonnie R. Giller
http://brghealth.com/brg/wp-content/uploads/2017/12/BRG_Headerwpic_2.png
Bonnie R. Giller
2018-03-26 09:00:45
2018-03-25 11:39:10
National Spinach Day