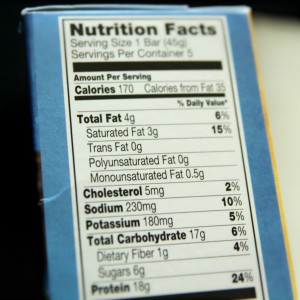 Recently the Food and Drug Administration (FDA) revealed the new nutrition labels that will be on every packaged food item.  The new changes are based on updated scientific information, recent dietary recommendations, and input from the public.
Appearance
Although the new label still has the black and white, 2 column look to it, there are many changes that might be difficult to see.  The new labels will more accurately reflect how much you eat.
The amount of servings per container will be larger so it will be easier to see at quick glance. The serving size for some foods, such as chips and pretzels, will be larger than in the past to reflect how much you actually
For some products that can be consumed in multiple sittings or all at once, there will now be two columns to indicate per-serving and per-package calorie and nutritional information. These products can include bagged snacks, as well as a pint of ice cream (I still don't recommend eating a pint of ice cream in one sitting ?).
Packages or containers that are between 1 and 2 servings, will now be labeled as one serving, since most people consume these foods and beverages in one sitting. This can include a 20-ounce bottle of soda or other beverage.
The amount of calories per serving will be much larger, again, so you notice it as you take a quick glance at the label.
There will no longer be a "Calories from Fat" line because research has shown that the type of fat is more important than the amount.
A new footnote will be added that better explains what the % Daily Value is.
Added Sugar
Added sugars are one of the big reasons there is a push for new labels.  Under "Total Carbohydrates", you will now see an "Added Sugar" line to show you how much added sugar is in a serving.
Are you asking yourself, "Why added sugars now?"  This change is important given the recent updates to the Dietary Guidelines and the advice of many dietitians that added sugars contribute to empty calories in your diet without providing any nutritional benefits.
The 2015-2020 Dietary Guidelines for Americans support the need to reduce caloric intake from added sugars.
The American Heart Association, Institute of Medicine and World Health Organization also recommend decreasing intake of added sugars.
It is recommended you consume <10% of your total calories from added sugar.
The addition of added sugars on the label will help you tell the difference between sugars added to a product during processing and sugars that come naturally, such as in fruits, vegetables and dairy.
Fiber
Due to the recent recommendations from the Dietary Guidelines and Institute of Medicine, the percent daily fiber will slightly change.  Previous recommendations allowed up to 25 grams of fiber per day, while the new recommendations call for up to 28 grams per day.  The new label will adjust the daily values according to the recent recommendations.
Vitamins and Minerals
Vitamin D
Vitamin D is a vitamin that many people are deficient in and a deficiency can put you at a higher risk for chronic diseases. The new label will list the amount of Vitamin D in micrograms (mcg), as well as the daily value, so you can easily see how much you are getting in a serving.
Potassium
On the current label it is optional to have the amount of potassium listed. The new label will make it mandatory for potassium to be on the label.
Vitamin A and C
These 2 vitamins will no longer be required on the label because most Americans are not deficient in them.
The goal of the new labels is to fight obesity and help you become more aware and knowledgeable on what (and how much) is in the food you are eating.  The FDA will require most companies to implement the new label by July 26, 2018.
Your Turn to Take Action:  Do you think the new nutrition labels will be more helpful when you're at the grocery store?
Reference: http://www.fda.gov/Food/GuidanceRegulation/GuidanceDocumentsRegulatoryInformation/LabelingNutrition/ucm385663.htm
Like this post? Share it!
http://brghealth.com/brg/wp-content/uploads/2016/08/Trans-Fat-Label.jpg
1324
1324
Bonnie R. Giller
http://brghealth.com/brg/wp-content/uploads/2017/12/BRG_Headerwpic_2.png
Bonnie R. Giller
2016-08-19 09:00:50
2016-08-17 13:43:05
New Nutrition Label