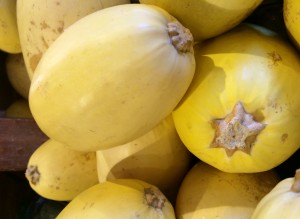 Spaghetti Squash
By Charna Sheinfeld,  Nutrition Intern
Cheap, easy to prepare, versatile, gluten free, and guilt free. These are just some of the many ways to portray spaghetti squash. This yellow, oval shaped squash gets its name because of the way its flesh separates after being cooked into yellow strands resembling spaghetti. At only 42 calories per cup, compared to a cup of regular pasta which contains over 200 calories, it is certainly worth hearing more about this interesting vegetable.
Spaghetti squash contains a range of nutrients including vitamins, C, and A, which can act as antioxidants, as well as B vitamins riboflavin, niacin, and thiamin, which help promote optimal cellular function. The squash is also 92 percent water by weight and contains 2.2 grams of fiber per serving which helps with digestion and helps make you feel fuller for longer, aiding in weight loss.
Other antioxidants found in spaghetti squash are beta carotenes, lutein and zeaxanthin, all connected to optimal eye health. Beta carotene can also promote heart health by lowering cholesterol levels and playing a part in preventing atherosclerosis. Additional nutrients provided by this vegetable include calcium, potassium, folate and manganese. Spaghetti squash also contains some omega 3 and 6 fatty acids which can help prevent heart disease, arthritis and even some cancers.
Spaghetti squash can be easily prepared by pricking it with a knife, and placing it in a 400 degree Fahrenheit oven for about an hour. You can discard the seeds and shred the squash with a fork creating its signature yellow strands. After cooking, the squash can be eaten plain, or used as a low carb and low calorie substitute for various pasta dishes.
Like this post? Share it!
http://brghealth.com/brg/wp-content/uploads/2016/11/spaghetti-squash.jpg
2306
3162
Bonnie R. Giller
http://brghealth.com/brg/wp-content/uploads/2017/12/BRG_Headerwpic_2.png
Bonnie R. Giller
2016-11-02 13:00:55
2016-11-02 12:13:43
November Monthly Morsels