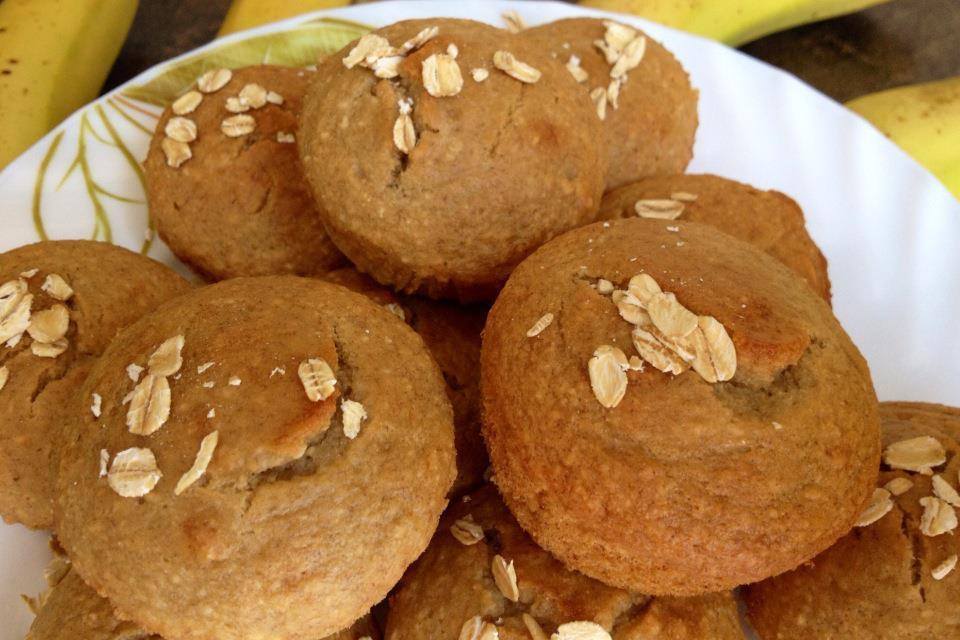 Today, muffins come in many different varieties. There are blueberry, chocolate chip, bran, corn and of course, oatmeal muffins. Over the years, muffins have received a bad rap for their high sugar content and low nutritional value. But they're not all that way!
Fresh baked oatmeal muffins are actually a great way to start your day.  You can enjoy the health benefits of oatmeal in a way that's different from the traditional bowl of oatmeal for breakfast.  These muffins are also an easy breakfast-to-go option if mornings are a little hectic for you.
Today is the perfect day to grab an oatmeal muffin for breakfast because it's National Oatmeal Muffin Day!
Oat-tastic Benefits
Oats are a whole grain that provides fiber and many vitamins and minerals.
Good source of zinc, iron and B vitamins, all of which are essential
High in soluble fiber, which has been shown to reduce your blood cholesterol and blood glucose levels and will keep you fuller for longer.
Good source of protein, which is an excellent way to start your day off.
The oatmeal also gives the muffin an enjoyable texture!
Oatmeal Muffin Varieties
Oatmeal muffins don't have to be boring!! There are many different things you can add into your batter for even more flavor.  Here are some of my favorite add-ins:
Applesauce – The applesauce adds more flavor, while also acting as a fat replacement. If you add applesauce, you can cut back on the amount of oil you use!
Blueberries – Fold in the blueberries after you've made your batter to avoid squishing them. Depending on how many muffins you are making, a cup of blueberries is a good amount to add!
Pumpkin-spiced – Add pumpkin puree and pumpkin-pie spice to your batter to make these delicious muffins. Sprinkle some pumpkin-pie spice on top for even more flavor.
Banana –This is my personal favorite! Add 1 cup of mashed bananas to your batter to make oatmeal banana muffins.
Nuts – Adding nuts such as walnuts and almonds adds a desirable crunch to your muffins. They also add healthy, essential fats!
There are many options of add-ins when it comes to baking oatmeal muffins.  Besides the few I just named, you can also add raisins, dark chocolate chips, cinnamon and apples.  You'd be surprise to find how many varieties of oatmeal muffins you can make.
Oatmeal Muffins for the Week
Making a batch of muffins can prepare you for the days when your schedule is packed and you want to grab a quick snack that won't take too much time to prepare.  Baking a full tray of oatmeal muffins can last you the week or longer if done properly.
Start by baking your muffins as you normally would. Once they cool completely, wrap the muffins in parchment paper and store them in a large freezer bag. Be sure you get as much air out of the bag as possible. Now you will be prepared with a quick breakfast on those busy mornings. Simply take one muffin out of the freezer and heat in the toaster or microwave.
Your Way to Take Action: Try making your own spin on oatmeal muffins this week! Find a flavor that the whole family loves. Share your favorite recipe below.
Like this post? Share it!
http://brghealth.com/brg/wp-content/uploads/2015/12/Banana-Oatmeal-Muffins.jpg
640
960
Bonnie R. Giller
http://brghealth.com/brg/wp-content/uploads/2017/12/BRG_Headerwpic_2.png
Bonnie R. Giller
2016-12-19 09:00:48
2016-12-15 09:28:30
Oat-tastic Muffins for Breakfast