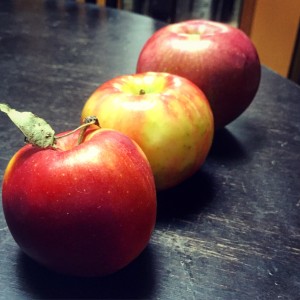 An Apple a Day May Really Keep the Doctor Away!
By Charna Sheinfeld,  Nutrition Intern
Most of us take them for granted, but there is really nothing more satisfying than biting into the crispy sweetness of an apple. With the month of October upon us, what better way to celebrate the month of apples, than by learning more about their health benefits, as well as some fun facts that you may not know.
Grown commercially in 32 states, an average of 240 million bushels of apples are grown each year in the United States, the second largest producer of apples in the world, behind China. Apples, specifically their peels, contain high levels of vitamin C, as well as both soluble and insoluble fibers. Research has found that the polyphenols contained in apples can help prevent large spikes in blood sugar as well as act as strong antioxidants.
A specific antioxidant function is in the polyphenols' ability to decrease the oxidation of fat in the cell membranes. In other words, apples can play a role in preventing the clogging of arteries and therefore prevent atherosclerosis and other heart problems. Apples' antioxidant powers are also linked to lowering the risk of asthma as well as lung cancer. In fact, researchers in the UK found that mothers who ate apples during pregnancy, had children who were at lower risk to develop symptoms of asthma at age five.
An area of research that is still in the current stages is the affect that the polyphenols have on regulating blood sugar. Studies have found that apples slow down the digestion of carbohydrates, allowing for a lighter load to be placed on the bloodstream. In addition, the consumption of apples have been found to stimulate the pancreas to produce more insulin, helping clear your blood from excess sugar, and keeping your blood sugar levels at proper levels. This idea is related to the possibility that apples can lower risk of diabetes. One study found that participants who ate three servings of apples a week had a 7% lower risk of developing type 2 diabetes than those who did not.
The U.S. grows 200 varieties of apples with the most popular varieties bought being Gala, Red Delicious, Fuji, Granny Smith, Honeycrisp, Golden Delicious, McIntosh, Pink Lady, Braeburn, and Jazz. It's important to store apples in the fridge to slow ripening and maintain their flavor. These nutritional powerhouses can last a few weeks in the fridge, so stock up now when apples are at the height of the season!
Enjoy the following original recipes created just for you!
Roast Chicken with Apples and Leeks
Roasted Apple and Butternut Squash Salad with Olives
Like this post? Share it!
http://brghealth.com/brg/wp-content/uploads/2016/10/Apples-3-in-row.jpg
2028
2028
Bonnie R. Giller
http://brghealth.com/brg/wp-content/uploads/2017/12/BRG_Headerwpic_2.png
Bonnie R. Giller
2016-10-05 13:00:48
2016-10-05 10:49:20
October Monthly Morsels