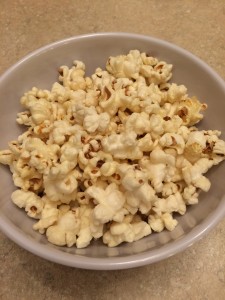 October is more than just a month to celebrate spooks and sweets. It's also a month to celebrate treats that are good for you like popcorn! It's National Popcorn Popping Month which means it's time to give a little patronage to this healthy snack. Did you know that fresh popcorn, lightly seasoned can be a wholesome choice for both children and adults alike?
In the past, movie theatres have given popcorn a bad rep. Movie theatres and festivals load their popcorn with butter, salt and artificial additives. These add empty calories and contribute very little nutrients. However, if you make popcorn the right way, it can actually be a great addition to your day.
MyPlate Update
If you aren't familiar with MyPlate, let me give you a quick refresher. MyPlate is the standard given by the USDA to educate people on what types and how much food to eat per day. According to MyPlate recommendations, you should be getting about 6 ounces of grains per day. And half of those grains should be whole grains.
Whole grains are important because they preserve all parts of the grain kernel as opposed to refined grains where two of the three layers are stripped away. Whole grains provide many nutrients that are vital to your health and may prevent the risk of some chronic diseases. Whole grain foods are diverse; they include barley, quinoa, buckwheat and you guessed it, popcorn.
Kernel Cues
The beauty about popcorn is that it's tasty and it's low in calories. If you air pop three tablespoons of kernels in a microwavable bowl, you can make a total of six cups of popcorn. Those six cups of popcorn come to only 120 calories! One serving of whole grains is equivalent to about half of that- three cups of popcorn.
In those three cups you'll also get about 4 grams of fiber. Fiber is important for a number of reasons. First and foremost fiber adds bulk to the diet, helping you feel full faster. It promotes gut health so that you don't have to worry about things like constipation or diarrhea. Fiber, although a complex carbohydrate, does not contribute to blood sugars because it cannot be broken down in the gut. This is beneficial for patients with diabetes as it can limit their carbohydrate intake. In one serving you can have all of these benefits and it should be enough to keep you satisfied.
Do It Yourself
On top of being delicious and nutritious, popcorn is also inexpensive and easy to make.The easiest way to make popcorn is on the stovetop. In a popcorn bowl, add three table spoons of kernels and let the microwave do the work! Microwave popcorn poppers are easy and fun and you can find them on amazon for as little as $7.  Do not cook popcorn in butter because butter will burn. Allow the kernels to air pop into white, fluffy popcorns. Fun fact: the remaining kernels that do not pop are known as "old maids." These kernels do not contain enough water inside them to create enough pressure to pop at the right temperature.
If you're looking for popcorn that's a little more interesting, try glazed lemon and poppy seed pop corn. It's simple, stir together an egg white with lemon juice, poppy seeds and salt. Then pour over four cups of unbuttered, unsalted already popped popcorn. Toss them on a baking sheet and pop in the oven for 20 minutes at 350 degrees F. Cool before serving.

Naturally, popcorn has no artificial additives, preservatives or sugar. Pop your own at home to know exactly what you're putting in it. What are you waiting for, get popping!
Like this post? Share it!
http://brghealth.com/brg/wp-content/uploads/2015/10/Popcorn-2-e1443926731717.jpg
3264
2448
Bonnie R. Giller
http://brghealth.com/brg/wp-content/uploads/2017/12/BRG_Headerwpic_2.png
Bonnie R. Giller
2015-10-04 09:00:54
2015-10-03 22:45:54
Popcorn Poppin' Month