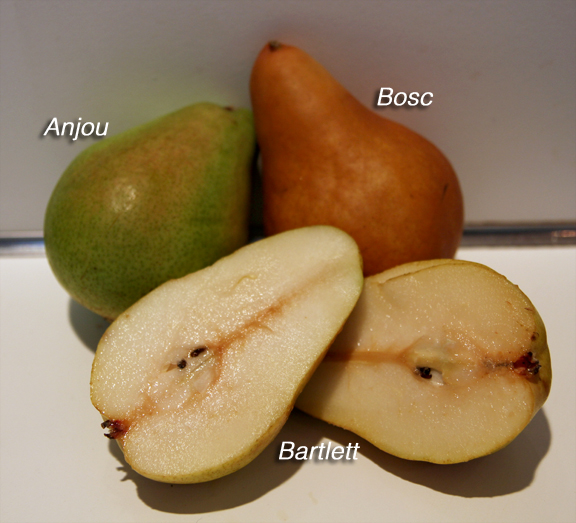 Did you know that Pears rank second to the apple as the most popular fruit eaten in the United States? They are also one of the world's oldest fruits; pears were known to both the Greeks and the Romans!
We celebrate National Pear Month every December, to honor this amazing fruit.
Some Pear facts:
Pears come in a variety of shapes, sizes and skin colors. Such as; green, gold, yellow and red!
There are many varieties of pears including, Anjoe, Bartlett, Bosc, Comice, Forelly and Seckel.
You can eat pears raw or cooked.
Pears are an excellent source of dietary fiber.
Pears are a great source of potassium. A medium-sized pear has about 190 milligrams of potassium.
Pears have no saturated fat, sodium, or cholesterol and are a good source of vitamin C.
How to Select the "Pear-fect" Pear:
Choose pears that are firm to the touch and free from bruises and blemishes.
Unripe pears should be stored in a paper bag at room temperature for 2-3 days or can be stored in a ventilated fruit bowl in a cool, dark place.
Ripe pears should be stored in the refrigerator in a plastic bag for up to 3 days.
How to Prepare your Pears:
Eat whole or cut up for a snack.
Use sliced pears as salad toppings, or diced and add to your morning yogurt.
Bake, poach, sauté, roast, or grill them.
Bake them and make them into preserves, jams, and chutneys.
Add them to your next smoothie, sauce or stew.
Try these exclusive BRG Health Recipes:
Baked Pears with Toasted Almonds and Cranberries
Poached Pears in Cranberry Juice
Your turn to take action: How many different ways can you incorporate pears into your menus this month?
Like this post? Share it!
http://brghealth.com/brg/wp-content/uploads/2016/12/pears.jpg
523
576
Bonnie R. Giller
http://brghealth.com/brg/wp-content/uploads/2017/12/BRG_Headerwpic_2.png
Bonnie R. Giller
2016-12-12 09:00:21
2016-12-11 18:29:46
PrePEAR for National Pear Month