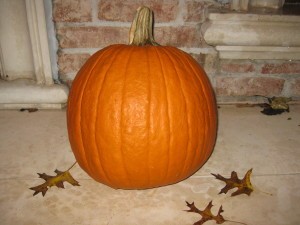 As soon as fall rolls in and October starts, the pumpkins come out! Pumpkins are pretty, trendy, and represent the weather and holidays approaching. But, pumpkins are also delicious and they do not get enough credit for it!! Besides using them as decorations, they are the perfect food to eat on a chilly day!
Let's go beyond pumpkin pie and learn more about pumpkins.
Pumpkin Nutrition
Before we get started, here is the nutritional breakdown of pumpkins so you have a better understanding of them. Pumpkin is a nutrient-dense food and one cup of cooked pumpkin:
Contains 49 calories and 3 grams of fiber
Great source of vitamin C and potassium
Excellent source of vitamin A (100% of your daily value)
Rich in calcium, copper and phosphorus
Pumpkin is one of the best known sources of beta-carotene, which is a powerful antioxidant that gets converted to vitamin A in your body. Beta-carotene protects the body against free radical damage. It also keeps your immune system healthy and lowers your risk of developing cancer and heart disease!
Get Your Heart Pump-kin
I'm sure pumpkin does not come to mind when you think of heart healthy foods, but it does have beneficial effects on your heart!
Potassium goes hand-in-hand with sodium when regulating your blood pressure. Getting a balanced amount throughout your week will keep your blood pressure in check and let your heart function optimally.
Vitamin C helps slow down the progression of atherosclerosis by protecting the arteries against damage. It keeps the skin around the arteries stable and flexible.
Beta-carotene is believed to stop the oxidation of low-density lipoproteins, or "bad" cholesterol. This can prevent the formation of plaque in your arteries, reducing your risk of heart disease!
Pumpkin Shopping
When cooking, you can use fresh or canned pumpkin.  When shopping for fresh pumpkins:
Pick a pumpkin that is firm, heavy and free of blemishes
Choose one whose color is bright and vibrant.
Avoid dull pumpkins that have uneven skin with soft spots or cuts.
If you're shopping for canned pumpkin be sure you don't grab pumpkin pie mix, which is normally on the shelf right next to canned pumpkin! It is similar, but can have unwanted added sugars, syrups, preservatives and spices.
Pumpkin Meals and Snacks
Pumpkin has a mild sweetness and nutty flavor, similar to squash. It pairs well with sweeter foods and grains. They can be steamed, boiled or baked. Here are some ways you can eat more pumpkin!
Homemade granola bars: Mix together oats, pureed pumpkin, almond milk, eggs, chocolate chips (if desired), vanilla extract, nutmeg, and pumpkin pie spice. Bake it at 350°F for 20 minutes and voila!
Pumpkin muffins make for a delicious treat. They are the perfect combination of all the flavors you probably associate with fall, pumpkin, cinnamon and nutmeg. Try my recipe here!
Pumpkin seeds can be roasted and eaten as a mid-day snack, mixed with cottage cheese, raisins and nuts or to top your salad off!
Baked pumpkin is a simple way to enjoy pumpkin and can be eaten as a side dish or as a snack. Start by removing the stem with a knife and scrape away the stringy interior. Turn upside down in a pan and bake at 350°F for 40 minutes. When it is done, season with your favorite pumpkin spices, such as nutmeg, cloves and cinnamon.
Pumpkin smoothie can be made with canned or fresh pumpkin puree! Mix the puree with a frozen banana, Greek yogurt, cinnamon, pumpkin pie spice, skin milk and ice for a yummy treat.
Pumpkin soup is perfect for a chilly fall day. Pumpkin puree gives soup a thick and creamy texture, which can really fill you up.
Create a tasty pumpkin side dish by pairing pumpkin with brown rice, quinoa, apricots or raisins. Also, any recipe that contains butternut squash can be easily swapped for pumpkin!
Remember, this time of year anything goes with pumpkin. So get imaginative with your dishes, you may surprise yourself with the delicious dishes you'll come up with!
Your turn to take action: In what way will you incorporate pumpkin into your meals this week? Try out our different tips and let me know which ones you liked!
Like this post? Share it!
http://brghealth.com/brg/wp-content/uploads/2016/10/Pumpkin-3-300x225.jpg
225
300
Bonnie R. Giller
http://brghealth.com/brg/wp-content/uploads/2017/12/BRG_Headerwpic_2.png
Bonnie R. Giller
2016-10-10 09:00:43
2016-10-06 21:04:44
Pumpkin: More Than a Decoration