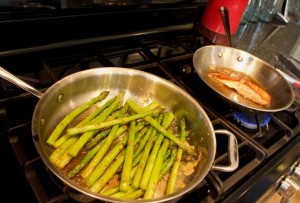 The idea of cooking a healthy dinner may intimidate you, but you shouldn't let it!  Cooking should be a fun and enjoyable experience so allow your creativity to shine.  Luckily, Sunday is National Cooking Day and is a perfect day to celebrate home cooking and to experiment with new dishes.
National Cooking Day's purpose is to encourage and inspire you to discover and experience something new and enjoyable in the kitchen while preparing something delicious for your family.  You can use this day to celebrate and drive your passion for home cooking.
Benefits of Home Cooking
Cooking at home comes with an upside.
Knowledge over what is going into your food and how much.
Creativity to make recipes your own.
Bonding experience with family and friends.
Appreciation of the food you consume because you made it and put in the work.
Saving money as cooking at home is less expensive than going out to eat!
Home Cooking Tips
Home cooking may seem like a chore for some, but it doesn't have to be!  There are many simple recipes you can start with and then work your way up to more intricate recipes.  Do not be afraid to fail because there is no right way to cook and everyone's taste preference is different.
Here are 4 cooking tips if you're just starting out:
Always preheat your oven first, as it may take awhile to heat up.
Prep your meals by cutting up your vegetables, marinating your meat or cooking your beans in the morning or night before so you have less to do at dinnertime.
If following a recipe, read it all the way through before you start cooking. That way, you'll know what needs to be done and in what order. (This is my favorite tip!)
Look up cooking videos to help you learn how to cook a new dish.
Recipes Perfect for Home Cooking
When following a recipe, do not be afraid to swap out ingredients and seasonings for something else you might like.  Here are a few of my Free Healthy Recipes that you can cook on Sunday, or any day!  Check out all of them here.
Spinach Stuffed Twice Baked Potato
Vegetable Curry Sauce Over Millet
Braised Chicken Breasts with Chickpeas Portabella Mushrooms and Rosemary
Your Turn to Take Action:  What will you cook for National Cooking Day?  Let me know in the comments below!
Like this post? Share it!
http://brghealth.com/brg/wp-content/uploads/2016/09/image004.jpg
443
656
Bonnie R. Giller
http://brghealth.com/brg/wp-content/uploads/2017/12/BRG_Headerwpic_2.png
Bonnie R. Giller
2016-09-23 09:00:18
2016-09-22 07:51:51
Raise Your Spoon for National Cooking Day!