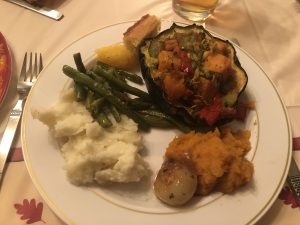 Thanksgiving was yesterday and you enjoyed the yummy food you prepared for your guests. But you are now left with a ton of leftovers. How long will the food sit in your fridge before it ends up in the trash. Here, in America, approximately 40% of food will wind up in a landfill.
While you cannot control food waste on an industrial level, where (unfortunately) a lot food waste occurs, you can reduce what is lost in your home! The average American family throws away 25% of the food and beverages that they buy, with fruits and vegetables accounting for the biggest loss.
Before jumping into ways to reduce Thanksgiving leftover waste, let's touch upon general ways to reduce waste that you can use on a daily basis!
5 Ways to Reduce Waste on A Daily Basis
Reduce recipe sizes. If you are cooking for one or two and a recipe you found online feeds a family of four, divide the recipe in quarter or half. Or, make the full recipe and freeze leftovers in single serve portions to eat another time.
Make a list. Write a grocery list and stick to what is on the list. When you make a list of things you need, you are less likely to make impulse purchases that will end up in the trash.
Freeze leftovers. If you know that you are not going to be able to eat all the leftovers in your fridge before they spoil, freeze them!
Serve smaller portions. When you are feeding your family or even yourself, give smaller portions! You can always take more food if you are still hungry. Less food that remains uneaten on the plate means less food in the trash.
Reinvent the meal. If you have are becoming just a bit tired of eating the same leftovers, try to incorporate them into other dishes. Leftover chicken can be cubed and sautéed with onions, tomatoes, garlic and some red sauce for a delicious new meal.
Reducing waste will not only save you money, it helps the environment. Less food in the landfill means less methane gas produced, which means less harm to the planet!
Rework Thanksgiving Leftovers
Being that today is the day after Thanksgiving and I'm sure you are looking in your fridge overwhelmed with all your leftovers – today is the perfect time to work on reducing your food waste. You may end up throwing away most of these leftovers due to not wanting the same foods, unsure how long they last or any other number of reasons.
Well, I'm here to help you rework your Thanksgiving leftovers into new and delicious meals! Check out my list below of recipe ideas!
Turkey Frittata: A frittata can be so simple and so delicious. Just scramble a few eggs, mix in some of those leftover veggies and turkey, and throw it in the oven to bake until brown for a delicious and nutritious breakfast!
Potato Pancakes: One of the easiest ways to make use of your leftover potatoes is to make potato pancakes! Mix with a little flour or oats, and an egg and sauté in light oil until brown. They make the perfect side to that leftover turkey Frittata. Check out my recipe for Sweet Potato and Apple Jacks.
Turkey and Cranberry Sandwich: Nothing says thanksgiving leftovers like a turkey and cranberry sauce sandwich. Just grab two pieces of bread, toast lightly, and add some of the leftover turkey (hot or cold), add some cranberry sauce and any other leftovers you'd like and enjoy.
Turkey Chili: Have a lot of left-over turkey and are looking for something warm to eat over the weekend? Turkey chili can be your answer! Grab a pot or a slow cooker, mix in beans, leftover turkey and some of the leftover canned pumpkin. Cook on low heat until done and enjoy.
Breakfast Hash: Toss your leftover turkey, stuffing, potatoes and vegetables into a skillet and make an amazing hash to go with your eggs.
Turkey Potpie: Have some leftover pie crust? Mix the leftover turkey, potatoes, and any vegetables that you would like in a bowl. If you like, you can mix in a little leftover gravy and then pour into the pie dish, cook on 350 degrees F until golden brown and enjoy!
Turkey Soup: This is slight spin on a classic and is so easy. Grab a pot, and throw in those leftover veggies along with the leftover turkey and either noodle or rice for a delicious and nutritious soup!
Don't be afraid to get creative! Now is the time to try new recipes with your leftovers, you can't go wrong!
Your turn to action: How will you rework your Thanksgiving leftovers? Let me know in the comments below!
Like this post? Share it!
http://brghealth.com/brg/wp-content/uploads/2018/11/1542941232844_image1.jpeg
3024
4032
Bonnie R. Giller
http://brghealth.com/brg/wp-content/uploads/2017/12/BRG_Headerwpic_2.png
Bonnie R. Giller
2018-11-23 09:00:50
2018-11-23 08:06:12
Reduce Food Waste, Rework Your Thanksgiving Leftovers