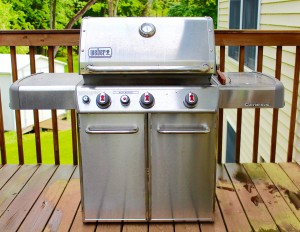 With summer in full swing and July 4th upon us, it can only mean one thing – it's time to grill!  July is National Grilling Month and the warm summer nights make for an enjoyable night perfect for grilling.
According to the Hearth, Patio and Barbecue Association, outdoor cooking remains more popular and easier than ever with the majority of Americans claiming cooking outdoors is easier than cooking indoors.  Grilling unites family and friends with food that tastes great, is easy to cook and is affordable.
Although there is nothing like outdoor grilling, you still have to be aware of potential fire hazards and food safety.   Did you know July is one of the peak months for grill fires? It is important you take precautions to prevent a grill fire, as well as making sure you avoid undercooking meats and cross contamination.
Luckily, I have 5 tips to help you stay safe when you grill!
Fire Safety:
Place your grill far away your home, deck railings and out from overhanging branches.
Keep your grill clean by removing grease or fat buildup from the grills and in trays below the grill. Use hot, soapy water to remove charred food debris and reduce exposure to bacteria.
Food Safety:
Adjust the temperature on your grill to ensure proper, even cooking. If meats and poultry are too close to the heat source, the outside will cook faster than the inside.  This will give the appearance of fully cooked food, yet the inside may still need more time.
Only take out as much food as you can cook on your grill at once, leave the rest in the fridge until you're ready to cook it.
Have different utensils designated for raw and cooked foods to prevent cross contamination and spreading of bacteria.
Sizzling Fruit
There are other foods that can be cooked on the grill besides meat and vegetables that will taste just as good.  Did you know that fruit tastes delicious when it's grilled?  Grilling causes the sugar in fruit to caramelize and create a new smoky/sweet flavor that reminds you how decadent fruit is!  Add these fruits to your menu next time you grill and they'll completely change your grilling experience.
Watermelon tastes great cooked on the grill and you can make it into a savory or sweet dish. Keep an eye on the watermelon as it cooks because the high water content may cause hot water to spew out and burn you.
Peaches, plums and apricots go great paired with Greek yogurt or ice cream for a sweet dessert. You can also add peaches to salsa or pair them with your meats.
Pineapple has always been a favorite on the grill. Grilling pineapple adds a pleasing crunch and smoky flavor that tastes great on a burger or on its own.
Strawberries become gooey perfection when cooked on the grill. The smoky and sweet flavors complement each other very well and make for a mouthwatering dessert.
Coconut will be the most unique dessert you'll grill. Crack the coconut in half and grill it, white side down, until the white flesh turns golden brown.   When it's ready scrape the flesh away from the shell with a knife.  If you're feeling adventurous, dip the coconut in melted dark chocolate for a sweet dessert.
Melons are another unique fruit that many do not think to grill but the flavors of the melon will deepen when it's grilled. You can cut it into cubes and grill them on skewers.
Want to try something your guests will love?  Next time you're grilling for everyone, put out bowls of fruit and let your guests make their own fruit kebabs!!  This will make for an exciting party trick all your friends and family will love to take part in.
Your Turn to Take Action: What new fruits will you try next time you grill?  Let me know in the comments section below.
Like this post? Share it!
http://brghealth.com/brg/wp-content/uploads/2016/06/Grill.jpg
3456
4468
Bonnie R. Giller
http://brghealth.com/brg/wp-content/uploads/2017/12/BRG_Headerwpic_2.png
Bonnie R. Giller
2016-07-04 09:00:08
2016-06-30 16:15:50
Safe Grilling and Sizzling Fruit