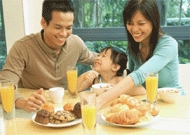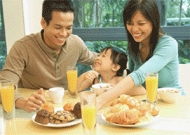 Do you and your family eat meals together? If so, how many? If not, how come? As a parent myself, I understand how stressful your day can be and what it's like to be pulled in a million different directions with no time to make a family meals.
Luckily September is National Family Meals Month and now is the perfect time to discuss the importance of family meals and how you can incorporate more family meals each week!
BENEFITS OF FAMILY MEALS
Having family meals at least once a day will benefit everyone in your family! A family meal can happen at breakfast, lunch or dinner – or all three! They give you and your family an opportunity to spend time together and reflect on things that have happened in your own individual lives at work, school or camp during the time you were apart.
Did you know that children who grow up having family meals are more likely to display healthy social behaviors and less likely to develop mental health disorders?  Family meals are also linked to better grades and better self esteem!
You may think that your family is way too busy to have a family meal every day, but planning time for a family meal doesn't have to be difficult at all! Here are some tips on how to successfully have regular family meals.
3 TIPS FOR HAVING REGULAR FAMILY MEALS
Make it a priority
Set a time for your family meal and stick to it. Getting into a routine is beneficial for the whole family. This way, if dinner is at 6:30 every night, the kids know to be ready for dinner at that time, you know exactly when you need to start preparing the meal, and everyone has something to look forward to.
Meal Planning
Meal planning is so important in family meals. Creating a menu for the week can help get the kids excited for the meals to come, and you know exactly which ingredients you need and how much time you need to allot for preparation. When you plan your meals ahead of time, you save so much time, and headache!
Involve the kids
Getting the kids involved in meal planning and preparation can help get them excited for the meal, and make them more compelled to actually eat the meal that is served. For instance, if your child is a picky eater and refuses to eat a certain vegetable, letting them choose the vegetable being served at the meal and allowing them to help in the preparation of the vegetable might encourage them to actually eat it. Additionally, a fun presentation of the dish may help encourage your children to eat something new as well.
2 EASY MEALS FOR THE WHOLE FAMILY
Here are some easy dinner ideas for those nights when you don't have a chance to plan ahead so that you can still enjoy a home cooked meal with your family!
One Pan Lemon Garlic Salmon and Asparagus. Heat one tablespoon of olive oil in a big pan. Once the pan is hot, add the salmon and asparagus, and season. Flip and cook the fish for about three to four minutes on each side, and then add the garlic. Cook for another couple of minutes and once everything is cooked, turn off the fire and add the lemon.
15 Minute Lo Mein. Cook the Lo Mein noodles according to the package. Heat some sesame oil in a large skillet and add green onions and vegetables. Stir fry for five minutes and then add the cooked noodles and sauce (three tablespoons of soy sauce, one teaspoon of sesame oil and one teaspoon of sugar). Cook until the noodles are the desired color!
Don't be afraid to use this time as a way to get creative and have fun with your family meals!
Your Turn to Take Action: How will you start to include more family meals this month? Let me know in the comments below!
Like this post? Share it!
http://brghealth.com/brg/wp-content/uploads/2017/09/Family-meals-1.jpg
135
190
Bonnie R. Giller
http://brghealth.com/brg/wp-content/uploads/2017/12/BRG_Headerwpic_2.png
Bonnie R. Giller
2018-08-20 09:00:00
2018-08-17 18:10:25
September is National Family Meals Month!