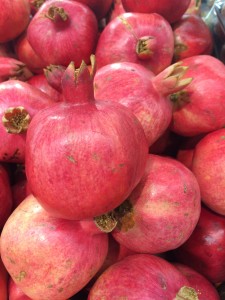 Pom Power
By Charna Sheinfeld,  Nutrition Intern
They are the small glistening, crimson, crunchy arils that make the pomegranate fruit so distinctive. This unique fruit is not only impressive in its looks, but in its nutritional profile as well.
One serving of pomegranate seeds provides considerable amounts of vitamin C, which is necessary for a healthy immune system, and vitamin K which is essential for blood clotting. Although high on the sugar content for fruits, pomegranates have an impressive 3.5 grams of fiber per half cup, curbing the effects of the natural fruit sugar on blood sugar levels.
Famous for their extremely high amounts of antioxidants to counteract the damaging effects of oxidation of radical cells, pomegranates have been the focus of many studies that aim to prove its ability to protect against diseases such as cancers, Alzheimer's, arthritis, and heart disease. Its anti-inflammatory effects come from its punicalagins, a unique antioxidant that has been found to fight inflammation associated with high blood pressure, heart disease, Alzheimer's and type 2 diabetes. Studies on the effects of drinking pomegranate juice found that it may prevent the development of breast cancer cells, as well as lower risk of prostate cancer by lowering levels of PSA (prostate specific antigens), a protein produced by the prostate gland.
Don't be intimidated by the seemingly difficult preparation of eating pomegranate. Follow these 3 easy steps to prepare and enjoy your pomegranate:
The fruit can easily be seeded by slicing it in quarters, and placing each section in a bowl of cold water.
Bend the rinds backwards to release the seeds. Pull out any small pieces of membrane and let the seeds sink to the bottom while the membranes will float to the top.
The seeds can be refrigerated for up to five days in an airtight container.
Pomegranates are a tasty and eye pleasing topping to just about anything – yogurt, oatmeal, salads, and even brown rice, Of course, they can be enjoyed as a refreshing snack on their own too.
Enjoy these 2 original recipes created just for you!
Roasted Acorn Squash Bowls with Spinach and Pomegranate
Vanilla Maple Overnight Oats with Pomegranate
Like this post? Share it!
http://brghealth.com/brg/wp-content/uploads/2016/08/Pomegranate-1.jpg
3264
2448
Bonnie R. Giller
http://brghealth.com/brg/wp-content/uploads/2017/12/BRG_Headerwpic_2.png
Bonnie R. Giller
2016-09-06 13:00:48
2016-09-01 09:43:36
September Monthly Morsels