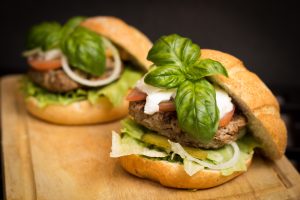 It's no surprise that hamburgers are an American staple as it is seen on almost any menu and restaurant.  In fact, did you know that in the U.S., the national total for hamburger consumption is about 50 billion burgers per year? That's a whole lot of burgers!
Burgers are a traditional "summer" food (think BBQs), but they are actually a great hearty meal year round – hence the 50 billion burgers consumed a year! However, this doesn't mean that you have to stick to the traditional "fast-food" burger.  Luckily, there are a vast number of ways that you can spice up your burger, all while keeping it full of flavor and nutritious!
Burger Essentials
There are certain food staples that usually every burger has and you can choose and switch any one to your liking!
Buns– The possibilities are endless, as you could use almost anything as a bun!Aside from the basic bread bun, you could a try whole-wheat or multigrain bun, pita, wrap or English muffin. If you want to try something a little more different, you could swap for a veggie bun such as a Portobello mushroom, grilled eggplants, zucchini slices or lettuce.
Protein– Skip the ground beef and try ground chicken or turkey. A great fish option is a salmon burger.  Don't want any meat?  Use tofu, or make your own patties from black beans, sweet potatoes, chickpeas, quinoa or other grains.  Need an idea for a meat-less patty?  Try my Mushroom Buckwheat Burgers!
Toppings– This is the fun part because you can build up your burger! Add your favorite veggies like tomatoes, cucumbers, peppers, mushrooms, jalapenos, avocado or onions.  Swap the lettuce for leafy greens like kale, arugula, spinach and cabbage.  Want to make it a cheeseburger?  Use mozzarella, feta, goat cheese or any other low-fat cheese.
Condiments– Try a bit of reduced-sugar ketchup, mustard, hot-sauce, salsa, hummus or guacamole. Remember, condiments are meant to add flavor and compliment the taste of all the other items in your burger. It's up to you if you want to add some or not!
I know burgers can get a bad rap for being high in fat, but that isn't always the case! There are so many ways you can spice up your burger to make it fit in your weekly meals.
And, one more thing … There's nothing wrong with a "traditional" burger!  Eat a classic burger if you want, just be mindful and savor every bite and enjoy.
Your turn to take action:  What's your favorite way to eat a burger? Let me know in the comments below.
Like this post? Share it!
http://brghealth.com/brg/wp-content/uploads/2018/12/hamburger-basil-beef.jpg
3456
5184
Bonnie R. Giller
http://brghealth.com/brg/wp-content/uploads/2017/12/BRG_Headerwpic_2.png
Bonnie R. Giller
2018-12-21 09:00:55
2018-12-20 19:39:08
Spice Up Your Burger!