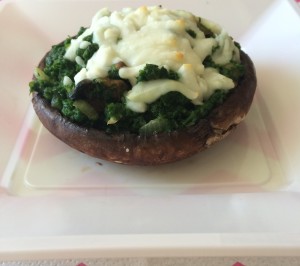 Recipe by Charna Sheinfeld, Nutrition Intern
Serves 4

Ingredients:

4 large Portobello mushrooms, stems removed, reserved and diced, caps gently scrubbed clean
Nonstick spray
1 medium red pepper, sliced thinly
1 teaspoon salt
10 oz. frozen spinach
1/2 teaspoon black pepper
1 teaspoon olive oil
1 small onion, diced
1 clove garlic, minced
4 tablespoons shredded low fat mozzarella cheese
Instructions: 
Preheat oven to 425 degrees F.
Line a baking sheet with foil and spray with nonstick spray. Place mushroom caps facing upward and spray with nonstick spray, and sprinkle with 1/4 teaspoon salt.
Place in oven and roast for 5 minutes.
Flip mushrooms. Spray underside with nonstick spray and sprinkle with another 1/4 teaspoon salt. Roast another 5 minutes. Remove from oven.
Meanwhile defrost spinach in microwave according to package instructions. Place in fine mesh strainer and drain out any excess liquid.
In a small pan, heat olive oil and add diced onion. Cook for 3-4 minutes. Add diced reserved stems and continue to cook for another 5 minutes. Add garlic and cook 1 more minute. .
Add spinach to onion mixture in pan and add remaining 1/2 teaspoon salt and pepper. Stir to combine and cook an additional minute.
After removing the roasted caps from the oven, evenly distribute the spinach mixture among the four mushrooms.
Sprinkle 1 tablespoon of the cheese on top of each mushroom towards the middle of the spinach stuffing.
Place under the broiler for 2-3 minutes until cheese is melted and slightly golden on top.
Serving Size: 1 stuffed mushroom
Nutrition Facts: 
Calories: 75
Total Fat:  3.0 gm
Saturated Fat: 1 gm
Monounsaturated Fat:  1 gm
Polyunsaturated Fat: 0 gm
Cholesterol: less than 5 mg
Protein: 6 gm
Carbohydrate: 9 gm
Dietary Fiber : 4 gm
Sodium: 680 mg
Bonnie R. Giller, MS, RD, CDN, CDE  • BRG Dietetics & Nutrition, P.C.
brghealth.com • (516) 486-4569
Like this post? Share it!
http://brghealth.com/brg/wp-content/uploads/2015/08/Spinach-stuffed-mushrooms-3-e1441066688660.jpg
2146
2423
Bonnie R. Giller
http://brghealth.com/brg/wp-content/uploads/2017/12/BRG_Headerwpic_2.png
Bonnie R. Giller
2015-09-01 10:00:47
2015-09-01 11:31:09
Spinach Stuffed Portobello Mushrooms