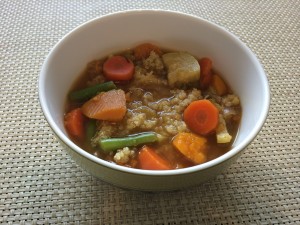 Soup makes the perfect meal during the cold, winter months because of the warm and comforting feeling it provides.  One of the greatest things about soup is it's a quick and easy meal that is full of healthy ingredients such as vegetables, whole grains, legumes, and lean proteins.
Nowadays, it is easy to pick up a can of premade soup for a quick easy meal, but it is no doubt that soup is healthier and more delicious when made from home.  You can also make a large batch that will last you all week!
Here are a few tips on how to make your own soup.
Low Sodium Broth. Always utilize a low sodium chicken or vegetable broth as the base of your soup.  You will greatly reduce the amount of salt in your recipe, especially when comparing it to canned soup!
Veggie Galore. Like salads, soups are an easy way to eat your vegetables and sneak in extra vitamins and minerals.  The best part is you can include any vegetable or vegetable combinations you want.  Root vegetables, onions, garlic, celery, carrots and leeks often need to be sautéed in olive oil for a few minutes before adding to stock to soften them up.  Softer vegetables, like leafy greens require little heat to soften, so you can add them towards the end of cooking.
Legumes. Adding legumes such as beans, lentils and peas will give your soup a much needed fiber boost! It will also add more protein and more taste without the need for extra fat.
Whole Grains. If you're making a noodle soup, use whole grain noodles, rice, quinoa or buckwheat in place of white noodles.  This will add more fiber, B vitamins such as thiamin, riboflavin, niacin, folate and minerals such as iron, magnesium and selenium.
Lean Meats. Choose to add chicken, fish or shellfish in place of red meat to keep your soup lower in fat. Since these meats tend to cook quickly, wait to add them until after the stock has boiled.
Pureed Vegetables. If you are in the mood for a creamy soup, add pumpkin or butternut squash puree for a thick and creamy texture. This will add more nutrition and flavor, while staying low in fat.  Pureed avocado can also be used and it's a healthy fat!
Fresh Herbs. In place of salt, season your soup with fresh herbs and spices!  Add pepper, basil, paprika or cilantro for more flavor.  You can also add red pepper flakes or cumin for a kick!
By making your own soup you have control over what you are eating.  You can make whole grain chicken noodle soup, spicy lentil soup, creamy butternut squash soup, or whole grain pasta fagioli soup.  Once you start with a base, you can add all of your favorites.
Soups are also a great way to use your leftovers.  Since everything is already cooked, it doesn't need to stay on the stovetop for long.  It's the perfect way to not let your food go to waste!
Try these BRG Health exclusive recipes:
Healthy and Hearty Mushroom Barley Soup
Creamy Roasted Tomato and Garlic Soup
Your Turn to Take Action:  What's your favorite soup to make?  Let me know in the comments below!
Like this post? Share it!
http://brghealth.com/brg/wp-content/uploads/2016/12/Hearty-Quinoa-Vegetable-Soup-300x225.jpg
225
300
Bonnie R. Giller
http://brghealth.com/brg/wp-content/uploads/2017/12/BRG_Headerwpic_2.png
Bonnie R. Giller
2016-12-26 09:00:38
2016-12-22 10:47:29
Stay Warm with a Bowl of Soup