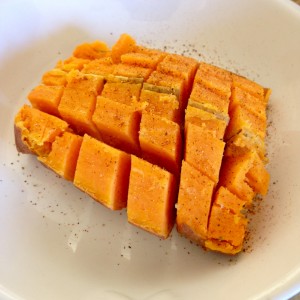 We are rooting for sweet potatoes this month! November is National Sweet Potato Awareness Month. You typically see sweet potatoes as a staple on your Thanksgiving table, but I'm sure you eat them year round as well!
Christopher Columbus did what?
History of Sweet Potatoes:
Sweet potatoes are native to Central and South America and are one of the oldest vegetables known to man.
Christopher Columbus brought sweet potatoes to Europe after his first voyage to the New World in 1492.
Worldwide, about 80 million tons of sweet potatoes are grown in China each year, with Africa producing about 14 million tons, Central and South America about 2 million, and the U.S. about 1 million tons.
Nutritious and Delicious
Sweet potatoes are known for being packed with nutrients and a sweet taste, which makes them extremely easy to incorporate into any fall dish. They are considered roots, compared to regular potatoes which are tubers.
Fiber: A medium sweet potato contains 7 grams of dietary fiber. Fiber helps regulate your bowel movements and keep your digestive tract healthy.
Vitamin A: A one cup serving of sweet potatoes provides you with 100% of the daily value for vitamin A, which helps maintain skin, tissue and eye health.
Antioxidants: Vitamin E and beta-carotene are found in orange foods, such as sweet potatoes. These act to protect your cells and maintain your health.
Vitamin C: This is another antioxidant found in sweet potatoes. It aids your immune system and may help your body stay healthier during the changing seasons!
Enjoying Sweet Potatoes
You can prepare Sweet Potatoes in many delicious ways!
Baked – 400°F for ~45 minutes.
Steamed – Fill a steamer with two inches of water and steam potatoes for ~7 minutes.
Boiled – Fill a pot half-way up with water (enough to cover potatoes), when it is boiling add the potatoes and put a lid on it. It should take 10-12 minutes.
Microwaved – Prick the potatoes all over with a fork, then microwave on high for 8-10 minutes or until tender.
Pureed – Boil potatoes until they are tender, drain and add to food processor with your favorite seasonings.
Recipes to enjoy:
Spinach Stuffed Twice Baked Sweet Potatoes
Roasted Beet and Sweet Potato Salad with Balsamic Dijon Vinaigrette
Your turn to take action: How can you incorporate more sweet potatoes into your lifestyle?
Like this post? Share it!
http://brghealth.com/brg/wp-content/uploads/2016/11/Sweet-Potato.jpg
2448
2448
Bonnie R. Giller
http://brghealth.com/brg/wp-content/uploads/2017/12/BRG_Headerwpic_2.png
Bonnie R. Giller
2016-11-04 09:00:25
2016-11-02 12:04:28
Sweet Potato Awareness Month