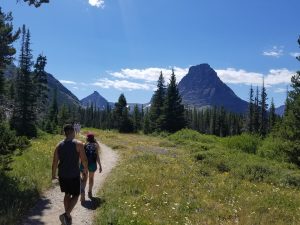 Did you know that today, November 13th, is National Take a Hike Day? This celebration of hiking is an opportunity to get people up and get outside. There are hundreds of hiking trails open that are free of charge just waiting to be explored.
Hiking Benefits
Hiking is a fun way to get a great workout. It not only gives you the benefits of cardiovascular activity, which is great for your heart and lungs, but it gets you outside and connecting with nature, which is good for your mental health. According to an article from Harvard Health, there are multiple benefits to exercising outdoors:
Your vitamin D levels will increase: Even in the cooler weather, you'll still get a fair amount of sun, which helps keep your vitamin D levels stable, which is important for bone health.
You'll be happier if you exercise outside: Many people suffer with seasonal affective disorder during the fall and winter months due to the shortened days and lack of sunshine. Getting outside and spending time in the sunlight can elevate your mood.
Your concentration will be better: Studies have shown that children with ADHD are more relaxed after playing outside in green areas. If it works for kids, chances are it works for adults, too. What better reason do you need to take the family outside?
3 Tips for a Successful Hike
Hiking is exercise so be sure to stretch before heading out to avoid injury and remember to do your research before heading out. Many websites offer information on elevation changes and difficulty levels for trails so you can decide which ones are best for you. Start with easy ones and work your way to more challenging courses. You'll be increasing your cardiovascular health while getting outside and enjoying local scenery.
Here are 3 tips to help you take a successful hike:
Pack some snacks and plenty of water. Depending on the length of the trail, you'll probably work up an appetite. Pack trail mix (how convenient!) or other non-perishable protein-rich snacks like nuts or peanut butter sandwich.
Wear the right clothes. This time of year, it's cold in the morning and warmer in the afternoons. Dress in layers so you can moderate your body temperature appropriately. Be sure to also wear appropriate footwear and keep your arms and legs covered to avoid insects, ticks, thorns or stray branches.
Bring hiking tools, such as a compass, flashlight, and maps, if available. If you get lost, you might be in an area where there's no cell phone reception so it's important to have a map and compass to find your way out, and a flashlight in case you get caught after sunset.
There's no better way to enjoy the outdoors and get your exercise than hiking. Visit some local parks in your area or take a family trip and take a hike this November!
Your Turn To Take Action: How will you take advantage of National Hiking Day this month? Let me know in the comments below!
Like this post? Share it!
http://brghealth.com/brg/wp-content/uploads/2017/11/image002.jpg
3024
4032
Bonnie R. Giller
http://brghealth.com/brg/wp-content/uploads/2017/12/BRG_Headerwpic_2.png
Bonnie R. Giller
2017-11-13 09:00:10
2017-11-12 19:07:38
Take a Hike This November