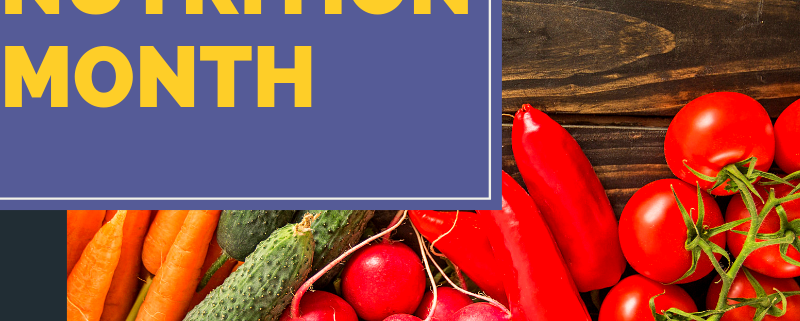 Did you know that March is National Nutrition Month? Typically, National Nutrition Month has a theme to focus on, however this year it's being done a little different! Instead of a theme, National Nutrition Month is being honored on its own. The point of this "theme" is to allow for flexbility when spreading nutrition messages and increasing public awareness of the importance of good nutrition.
For most people, when they think of nutrition, they automatically think of food and healthy eating only. However, what a lot of people don't realize is that nutrition is about so much more! Nutrition also encompases a ton of lifestyle components.
For National Nutrition Month this year, I am focusing on 4 areas that make up an overall healthy and balanced lifestyle – and you may be surprised to learn not everything is about "healthy" food!
Healthy Eating Benefits
I'm sure you are already well aware of this one, but making sure you're eating a healthy diet with a great amount of variety is extremely important for your overall health. This means having fruits, vegetables, healthy fats, whole grains and lean protein daily.I always like to say that you should try to eat the rainbow! Keeping this in mind can help you maintain variety in your diet.
When you eat "healthy" and have an overall balanced diet – you can reduce your risk for diabetes, cardiovascular disease and many other preventable diseases!
Intuitive Eating: Listen to Your Body's Signals
There's no need to look to external sources to tell you when and how much to eat! You are born with the ability to know when you are hungry and when you are satisfied. These signals are intuitive, the idea is to listen for them. If you've been dieting for a while, you may have lost that trust. You CAN reclaim it.
Learn about intuitive eating HERE.
Physical Activity
Exercise plays a big role in your overall nutrition as well but it doesn't have to be miserable! Exercise doesn't automatically mean running many miles or spending hours at the gym.It can be as simple as taking a 20 minute walk every day or choosing to take the stairs instead of the elevator. If you can't bring yourself to exercise on your own, join a fitness club or gym where they offer exercise classes might be a good option for you as well!
Food safety
Food safety is another important aspect of feeding yourself well. You may not realize it, but there are actually many opportunities for food contamination to take place. For instance, although uncooked meats, poultry and fish can be stored in the freezer for months, it still needs to be wrapped tightly or else it'll get freezer burn which would make it inedible. Also, you should never refreeze meat that has already been defrosted because it can begin to grow dangerous bacteria. It's also important to keep raw and uncooked foods separate to reduce contamination – i.e. think vegetables and meats.
When you take the appropriate steps to keep your food safe, your body will thank you!
As you can see, nutrition is comprised of many different aspects so it is important we don't overlook any of them! When you keep in mind all of the different components of nutrition, you'll see you find you have a much more balanced lifestyle!
Your Turn to Take Action: How are you celebrating National Nutrition Month? Let me know in the comments below!
Like this post? Share it!
http://brghealth.com/brg/wp-content/uploads/2019/02/blog-1.png
800
800
Bonnie R. Giller
http://brghealth.com/brg/wp-content/uploads/2017/12/BRG_Headerwpic_2.png
Bonnie R. Giller
2019-03-01 09:00:25
2019-02-27 18:04:56
The Big 4: Celebrating National Nutrition Month