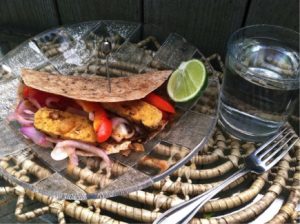 Sandwiches are a classic food that can be eaten at any time of the day. The sandwich has become a go-to food because it is easy to make and can be customized to any appetite.  You can eat a sandwich as a snack or meal, be sweet or savory, hot or cold, simple or exotic – the possibilities are endless!
Sandwiches can be a perfect complete meal containing each main food group all packed together in a yummy portable way. Since August is National Sandwich Month, here are some helpful tips to build a delicious, satisfying, and nutritious sandwich.
5 Parts of a Sandwich
1) Bread. Opt for whole wheat bread, wraps or rolls as whole grain products provide you with fiber and essential nutrients that are lost during processing. Always read the ingredient label and check that the word "whole" is listed before the type of grain. Whole grains include: oats, barley, whole wheat or brown rice.
2) Cheese.What's a sandwich without cheese? Low-fat and low-sodium cheeses can replace full-fat cheese and still add extra protein and boost your calcium intake. Opt for a slice of low-fat Swiss, mozzarella, or any other fresh cheese to give your sandwich a tasty kick.
3) Protein. Choose lean meats for your sandwich like lean turkey, grilled chicken or tuna. If you're not a meat eater, that's okay! Tofu, eggplant and hummus make for a great sandwich as well.
4) Toppings. Fresh veggies are a great way to add volume to your sandwich while adding important nutrients and fiber.
Lettuce and tomatoes are traditional and delicious toppings that give a crisp, fresh flavor.
Avocado is a delicious healthy fat that pairs well with sandwiches.
Onions and cucumbers add an extra crunch.
Spinach can be used in place of lettuce for an added iron punch!
Mix in some zucchini, red bell peppers, or grated carrots to amp up the flavor and antioxidants.
5) Dress it up!Choose low fat mayonnaise or low-fat Greek yogurt-based dressings as healthy alternatives for your finishing touch. You can also try avocado, hummus, mustard, hot sauce, olive oil or balsamic dressing for added flavor. Be mindful of the serving sizes!
Sandwich Ideas
Unsure of how to spice up your simplesandwich? Try out any of these ideas for your next sandwich!
Lettuce wrap with tuna salad. Make your tuna salad with avocado in place of mayo for added flavor.
Whole wheat pita with turkey, Swiss cheese and red bell peppers. Spread hummus or raspberry vinaigrette on the pita before stuffing for more flavor.
Grill eggplant, zucchini and peppers on the grill. Throw on top of toasted whole grain bread and top with mozzarella cheese for a delicious sandwich. Drizzle some balsamic vinaigrette on top!
Use these tips as a guide the next time you are making a sandwich, but don't be afraid to get creative as well! Try thinking of new combinations or ingredients to ensure your sandwiches will be both interesting and pack a nutrient punch.
Your turn to take action: How will you celebrate National Sandwich Month? Let me know in the comments below!
Like this post? Share it!
http://brghealth.com/brg/wp-content/uploads/2018/08/sandwich.jpg
325
435
Bonnie R. Giller
http://brghealth.com/brg/wp-content/uploads/2017/12/BRG_Headerwpic_2.png
Bonnie R. Giller
2018-08-17 09:00:12
2018-08-15 20:29:01
Time for the Perfect Sandwich