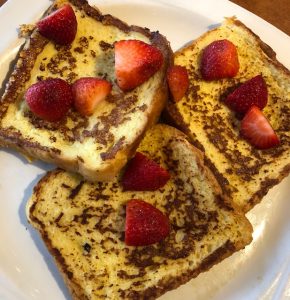 Is it just me, or is French Toast one of the best meals ever? What makes it so good, you may ask? There are so many sweet variations! You can even make it savory, if that's what you like. I guess a couple other people feel the same way as I do because there is an entire day dedicated just to French toast! Wednesday, November 28th is National French Toast Day! That makes today the perfect time to talk all about French toast in anticipation of this day.
French toast can be the perfect go-to for either starting your morning or ending your night, it's up to you.
Bread Perfect for French Toast
The base to your French toast is all about the bread you choose to make it with! I find that this depends on your preference, but some of the most common breads used are listed below. It can also lead to better French toast if your bread is a little stale!
Brioche

– This is a richer version of sandwich bread. Its sturdy structure allows it to hold up its shape after soaking up the "batter". When cooked, it has a crispy outside and a soft inside.

Challah

– This type of bread usually doesn't contain dairy products. It's more of an eggy bread that also soaks up the "batter" without breaking apart.

Sandwich bread

–

(Think about the bread you'd buy to make a sandwich)

This bread is not as dense as challah or brioche. It is tender, but will easily break apart if soaked for too long.

French Bread

– A firm crusted bread that holds up well when soaked in custard. Usually cut on a diagonal to make larger slices.

Leftover Bread

– Don't let bread go to waste! Recycle

slightly stale sandwich bread (or any bread

) by making a delicious French toast.
Typically, these breads are dipped into a mixture ("batter") that included milk, eggs/egg whites, salt, cinnamon and vanilla extract! However, there are so many different "batters" you can make, so don't be afraid to get creative.
Get Creative
Here are 3 twists you can try when making your French toast:
Instead of eggs or egg whites, use mashed bananas in your batter

After soaking in the batter, dip into a bowl of nuts to coat the bread

Add pumpkin puree to your batter for a delicious twist
Delicious French Toast Toppings
Now that we've gotten the bread choices out of the way, let's get to the good stuff! There are so many options when it comes to topping your French toast, or even deciding if you want to stuff it. Check out my list below of delicious topping ideas to mix and match.
Top with delicious berries: strawberries, blueberries, raspberries, blackberries – what your heart desires!

Drizzle melted peanut butter (or almond butter) on top or spread some right from the jar.

Stuff two pieces of French toast with bananas and cinnamon for a fun "sandwich"

Sprinkle cinnamon on top with your fruit of choice

Top with crushed walnuts, pecans, or almonds

Cut up an apple into tiny pieces and top with a drizzle of honey
There are so many ways you can top or stuff your French toast. Don't be afraid to get creative!
Check out one of my favorite, simple French toast recipes below.
French Toast
Ingredients
2 large eggs

1 egg white

½ cup low-fat milk

¼ teaspoon salt

¼ teaspoon cinnamon

½ teaspoon vanilla extract

6 pieces whole wheat bread

Maple syrup

Strawberries and blueberries for topping
Instructions
In a bowl, whisk together eggs, egg white, milk, salt, cinnamon, and vanilla extract.

Soak whole wheat bread in batter, turning to coat both sides

Spray skillet with nonstick spray and heat.

Add soaked bread slices to the skillet to cook. After 1-2 minutes, flip slices over.

Remove from pan and drizzle with maple syrup.

Repeat steps 4-6 with the remaining bread slices.

Top with sliced strawberries and blueberries.
Your Turn to Take Action: Do you have a favorite French Toast recipe? Share in the comments below!
Like this post? Share it!
http://brghealth.com/brg/wp-content/uploads/2018/11/IMG_4705.jpg
640
618
Bonnie R. Giller
http://brghealth.com/brg/wp-content/uploads/2017/12/BRG_Headerwpic_2.png
Bonnie R. Giller
2018-11-26 09:00:12
2018-11-25 19:22:42
Time to Celebrate National French Toast Day!