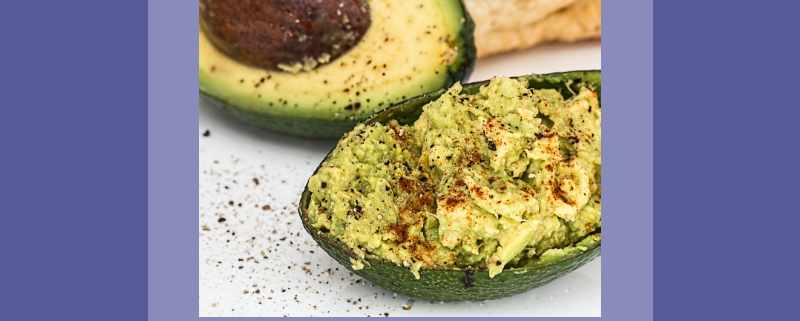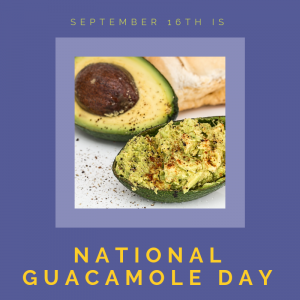 Happy (early) National Guacamole Day! Did you know that guacamole dates all the way back to the 1500s when it was created by the Aztecs and to this day the same ingredients are used!  As you know, the main component of guacamole is crushed avocado, but many recipes call for the addition of other vegetables like tomatoes or onions. Guacamole is great because in addition to it being a great snack, it's packed with lots of vitamins and minerals!
With National Guacamole Day only a few days away (it's officially on September 16th), now is the perfect time to learn more about avocados and other ways you can spice up your guac!
Nutritious Avocado
Avocado is jam packed with important nutrients, making it a wonderful, and nutritious, fruit (yes, it's a fruit!). Avocados are filled with heart healthy fats, like monounsaturated fatty acids! They are also a great source of:
Vitamin K, which aids in your body's ability to clot your blood and has a role in your bone health.
Folate, which is important for central nervous system development during pregnancy.
Vitamin C, which works to help keep your immune system healthy.
Potassium, which works with sodium to keep your blood pressure normalized.
Vitamin E, which acts like an antioxidant and protects your cells from any damage.
5 Ways to Spice up your guac!
There are many different ways to make guacamole, and they're all delicious! Here are some simple, but awesome recipes you can make at home.
Basic Guacamole
Combine avocado, onion, cilantro, jalapeno, lime, salt, and ground coriander in a bowl and mash together until they are at a smooth consistency! Personally, I love this combination because it's straight forward but gives a bit more flavor than just mashed avocado and salt!
Black Bean and Corn Guacamole
Mix avocado, black beans, corn, cilantro, lime, jalapeño and red pepper flakes together in a bowl until they are the desired consistency.
Roasted Tomato Guacamole:
Combine avocado, roasted cherry tomatoes, red onion, olive oil, basil, and garlic in a bowl and mix until they are the desired consistency. Be sure to try this recipe if you especially enjoy Italian style foods!
Creamy Guacamole Hummus:
Try this recipe for the perfect mix between guacamole and hummus! Blend avocado, tahini, olive oil, lemon juice, garlic, salt, and cumin together until smooth. Then, add chickpeas and mix until smooth again.
Spicy Cheddar Cheese Guacamole:
Mix avocado, cheddar cheese, black beans, tomato, and green onions together in a bowl and mix until you get a smooth texture.. If you like cheese and spice, this is the recipe for you!
Now that you have some new guac recipes, what will you dip into it? Traditionally, tortilla chips are the way to go, but why not try to spice up your chips as well!?
Grab some pita chips or dip your veggies in it – celery, peppers and carrots would definitely be my go-too!
Spread it on toast in the morning. Try topping it with an egg for an even more balanced breakfast!
If you're really looking for an out-of-the-box idea, leave your guacamole a little chunky, add some fruits and additional veggies to make it like a salad. You can even throw it on top of a bed of lettuce!
The best part about guacamole is its versatility. You can make it so many different ways and it compliments a lot of different foods. Don't be afraid to take your guacamole to the next level this Sunday for National Guacamole Day!
Your Turn to Take Action: How will you spice up your guacamole for National Guacamole day? Let me know in the comments below!
Like this post? Share it!
http://brghealth.com/brg/wp-content/uploads/2018/09/nationalguacday.png
800
800
Bonnie R. Giller
http://brghealth.com/brg/wp-content/uploads/2017/12/BRG_Headerwpic_2.png
Bonnie R. Giller
2018-09-14 09:00:33
2018-09-14 12:43:49
Time to Celebrate National Guacamole Day!