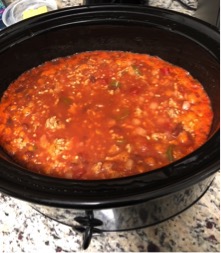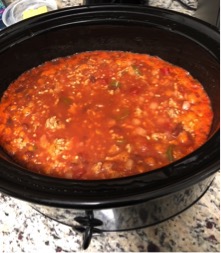 Do you feel that you are often too busy to properly plan out and cook meals for yourself or your family? Unfortunately, when you are constantly in a rush your food choices may not be what you'd hope for. However, I have good news! There is an easy solution to this, which saves time and also money… a slow cooker!
It's a good thing that January is more than just the beginning of a new year. It's also National Slow Cooking Month, which makes it the perfect time to learn more about using your slow cooker.
All About Slow Cooking
Many of you may already have a slow cooker (also referred to as a crock-pot), but aren't using them to their full advantage. For those of you that may not own one, a slow cooker is a portable food-heating appliance created in 1939.
The slow cooker gained its popularity in the 1970s and 80s during a time when more women were working and out of the house. Using a slow cooker to create family meals allowed these women to balance their lives better. Presently, using a slow cooker can offer a healthy alternative to takeout, and can be a time efficient way to create hearty meals.
In addition to saving time and money, there are 4 other benefits to using a slow cooker:
Energy efficient – it saves more energy than using an oven, lowering your electricity bill.
Small and compact – it can fit right on your counter top, and then be stored in a cabinet.
Tenderizes meat – with minimal effort, your meats come out juicy and delicious without all the physical labor!
Prep time is a cinch – you can just put all the ingredients in at once, no need to cook anything separately.
5 Meal Ideas Perfect for Slow Cooking
Now that you may want to take your slow cooker out of storage, you may be thinking, "What should I make?" Well, I have a few ideas that can get you started, but don't be afraid to get creative!
Tasty Turkey Chili – perfect as a meal by itself or served as an appetizer with whole grain chips.
Tender Beef Stew – this may require a few more steps as you'll want to start to make the gravy before putting all of the ingredients in the slow cooker, but I promise you it'll be worth it!
Flavorful Pot Roast – can make for a simple, yet delicious family dinner without all of the hard work.
Delicious Meatballs – meatballs can be an easy meal to cook without the slow cooker, but they still take time. Let the slow cooker do the work for you while you're gone during the day.
Sweet Peach Cobbler – bet you never thought of making a dessert with your slow cooker… this sweet and simple treat will put a smile on your family's faces!
I do have a treat for you guys…. Here is one of my favorite slow cooker recipes…Enjoy!
Slow Cooker Chili
Ingredients:
1 pound ground chicken (or turkey)
1 cup celery, diced
1 large carrot, diced
½ yellow onion, diced
1 ½ tbsp. chili powder
1 tsp cumin
½ tbsp. garlic, minced
15 oz. can petite diced tomatoes
15 oz. can tomato sauce
15 oz. can dark red kidney beans
1 cup chicken broth
1 tsp. Worcestershire sauce
Salt & pepper to taste
Directions:
Brown the chicken in a skillet.
Place chicken and remaining ingredients in slow cooker and stir.
Cook on low for 6 hours (or on High for 3 hours)
Enjoy!
Don't be afraid to get creative with your slow cooker. There are endless possibilities for the meals you can prepare. Some other ideas are soups/stews, pulled pork or chicken, pasta dishes, and even desserts.
Your Turn to Take Action: What's your favorite recipe to cook using a slow cooker? Let me know in the comments below!
Like this post? Share it!
http://brghealth.com/brg/wp-content/uploads/2018/01/Untitled.jpg
253
221
Bonnie R. Giller
http://brghealth.com/brg/wp-content/uploads/2017/12/BRG_Headerwpic_2.png
Bonnie R. Giller
2018-01-12 09:00:19
2018-01-10 06:14:26
Time to Get Cooking!