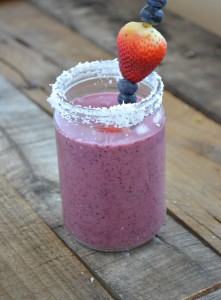 When you think of July 4th, what comes to mind? Food, BBQ, alcohol and the beach, right? It only seems fitting, then, that finding delicious and healthy recipes tops your list of ways to make this Fourth of July your best ever; and since most plans on the Fourth involve time outdoors in the sun, I've also gathered some tips for having fun in the sun while staying hydrated and avoiding sunburns.
Tip 1: Choose turkey hamburgers and chicken hot dogs without fillers or preservatives! It is always a good idea to opt for a whole-grain bun, and try some delicious and nutritious toppings, like some veggies.
Tip 2: When grilling your food, make sure to avoid harmful chemicals which can be released when cooking at high temperatures. To avoid these chemicals, slow cook your meat over indirect heat, or marinate your meats first, which has been shown to make grilling safer!
Tip 3: Adjust your "food judgement". Don't automatically fill up your plate with food and make it your mission to lick the plate clean. Be sure not to make the food your focal point of the day; instead, celebrate your friendships, engage yourself with the people around you, and focus more on the festivities! Be sure to eat (and drink) slowly and mindfully.
Tip 4: Try new foods! Make the switch to soy products for your BBQ.  Studies have shown that soy can help lower your cholesterol. Soy dogs, veggie burgers, and soy cheeses can even satisfy the pickiest eaters. You can read more about Soy here.
Tip 5: Make a nice red, white and blue fruit salad for dessert! You can also grill some fruits for dessert for a fun new twist.
Tip 6: Drink smart! If you choose to celebrate with an alcoholic beverage, take it back "old school" style and use fresh ingredients! Use fresh-squeezed juice, seltzer water, simple syrup, and whole fruits in place of flavored syrups to make your beverages a lot healthier.
Tip 7: Whether you're at a backyard barbecue or on the beach, chances are you'll be spending much of the 4th outdoors. Take advantage of the great weather (fingers crossed) by organizing outdoor activities with your friends and family. Bring some balls to toss around, a Frisbee, play tug of war and have some fun!
Tip 8: Be sure to stay hydrated! While the sun it beating down on you, make a family/ friend challenge to finish a whole gallon (or more) of water together. This way you will all be sure to stay hydrated.
Tip 9: Don't burn! If you are outdoors make sure you have an umbrella and a ton of sunscreen. Be sure to reapply your sunscreen multiple times throughout the day to avoid a painful burn.  And, try to to spend some time in the shade under an umbrella instead of baking in the sun all afternoon.
Tip 10: Enjoy yourself and stay safe!
Your turn to take action: What healthy items can you add to your menu for the 4th of July this year?
Like this post? Share it!
http://brghealth.com/brg/wp-content/uploads/2016/06/Frosty-beverage-July-4.jpg
4179
3072
Bonnie R. Giller
http://brghealth.com/brg/wp-content/uploads/2017/12/BRG_Headerwpic_2.png
Bonnie R. Giller
2016-07-01 09:00:53
2016-06-30 16:20:09
Tips for a Healthy 4th of July