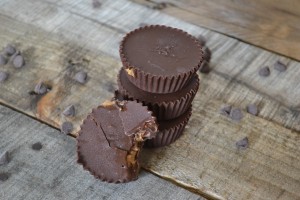 BOO! Did Halloween scare you? Are you feeling uneasy with the haunting holiday of sweets approaching? Halloween is always a difficult, but extremely important time to practice mindful eating, but don't worry! I've got you covered.
When you think of Halloween, the first few things that come to mind are probably costumes, trick-or-treating, pumpkin carving, and TONS of candy. On average kids eats around 50-100 pieces of candy on Halloween and during the days after, which is A LOT of sugar. It's important to encourage children from a young age, and remind ourselves to have sweets in moderation to avoid belly-aches and cavities!
Whether you're out and about tricking or home handing out the treats, these tips will help you stay as healthy and mindful as you can be:
Fill up before trick-or-treating: Be sure to enjoy a nice, filling, nutritious meal before going out. This way everyone is full before going trick-or-treating and will be less likely to overeat candy.
Trick-or-Treat and Exercise: Put on your sneakers and encourage the whole family to walk around town and collect treats. You can even have a stepping competition to see who walked the most that night!
Give out fun, non-edible treats (and encourage your whole neighborhood to do the same): Make a difference this year and get the whole neighborhood involved in making the year a healthier Halloween. You can give out small pocket games, glow-sticks, bubbles, stuffed animals, bracelets or Play-Doh.
Hand out sensible treats: Make an effort to hand out mindful snacks that are delicious and nutritious, such as individual bags of pretzels, trail mix, small boxes of raisins, packaged pumpkin seeds, small boxes of cereal, or granola bars!
Portion Control: Portion control is key! Listen to your intuition and don't deprive yourself. If you are craving a chocolate bar, choose the fun-sized option. Fun-sized candies have a fraction of the fat and calories per package and give you the indulgence you are craving without missing all of the fun.
Carry a small bag while trick-or-treating: Once your bag is full, stop! This will encourage your children to take one piece from each house instead of a handful. They will be able to visit more houses around the neighborhood and get more exercise in.
Check expiration dates: Be sure to check all of the expiration dates on the candy you and your family receive. Anything that expires soon, set aside or dispose of.
Donate all of your candy: Make a competition with your family or even with your neighborhood of who can collect the most candy to donate. Whoever wins gets a free movie night.
Be an intuitive eater: There's no need to call the food police while out having fun. Listen to your body- if you need a sweet, go for it.  But remember, if you're past the point of fullness, that extra candy isn't going to make you feel any better!
Dark Chocolate: Dark chocolate contains 70% or more of cocoa. Cocoa has been shown to contain antioxidants and have cholesterol lowering properties. The fat in cocoa is comprised of monounsaturated fatty acids as well as stearic acid, which appears to have little-to-no effect on your cholesterol levels. So if you need a little chocolate pick-me-up, dark chocolate is the way to go!
Your turn to take action: What will you do to make sure that you are having a healthy and mindful Halloween for you and your family?
Like this post? Share it!
http://brghealth.com/brg/wp-content/uploads/2016/10/reses-peanut-butter-cups.jpg
3072
4608
Bonnie R. Giller
http://brghealth.com/brg/wp-content/uploads/2017/12/BRG_Headerwpic_2.png
Bonnie R. Giller
2016-10-28 09:00:12
2016-10-26 12:32:31
Top 10 Tips for a Healthier Halloween