Vegetable Curry Sauce over Millet
Serves 5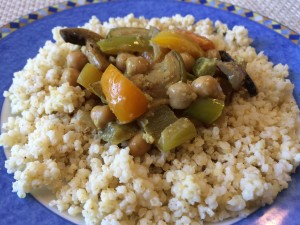 Ingredients:

1 cup dry millet
1 onion, diced
2 colored peppers (orange, red, or yellow), diced
1 green pepper, diced
1 summer squash or zucchini, cut into chunks
1 small jalapeño pepper, minced
4 button mushrooms, sliced
1/2 cup canned chick peas, drained and rinsed
2 cloves garlic, minced
3/4 teaspoon curry powder
1/4 teaspoon chili powder
1/2 cup coconut milk
1/2 cup water, divided
Instructions:

Cook millet accordingly to package instructions.
Meanwhile prepare a pan with non stick cooking spray and 1-2 teaspoons of water, sauté onion for 3-4 minutes. Add more water if needed.
Add peppers, squash, jalapeño, and mushrooms to pan and continue to sauté for 7-9 minutes on medium-low heat until vegetables as mostly cooked through.
Stir in chick peas.
Stir in garlic. Cook for 30 seconds.
Add curry powder and chili powder, stirring well.
Raise heat to high. Pour in coconut milk and water and bring to a boil.
Lower heat and simmer vegetables for 7-8 minutes. Stir halfway through.
Serve the vegetable curry sauce over the cooked millet.
Serving Size:  1/2 cup millet with 1/2 cup vegetable curry sauce
Nutrition Facts:
Calories: 290
Total Fat: 8 gm
Saturated Fat: 5 gm
Monounsaturated Fat:  1 gm
Polyunsaturated Fat: 1 gm
Cholesterol: 0 mg
Protein: 8 gm
Carbohydrate: 46 gm
Dietary Fiber : 8 gm
Sodium: 55 mg
Bonnie R. Giller, MS, RD, CDN, CDE  • BRG Dietetics & Nutrition, P.C.
brghealth.com • (516) 486-4569
Like this post? Share it!
http://brghealth.com/brg/wp-content/uploads/2015/06/Retake-Vegetable-Curry-Sauce-over-Millet-2.jpg
2448
3264
Bonnie R. Giller
http://brghealth.com/brg/wp-content/uploads/2017/12/BRG_Headerwpic_2.png
Bonnie R. Giller
2015-07-07 09:00:08
2015-06-24 18:23:48
Vegetable Curry Sauce over Millet