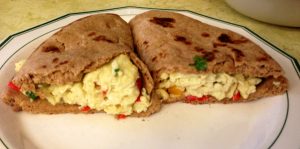 Now that September is here and school is back in full swing, a good healthy breakfast is more important than ever. In fact, perhaps that's why September is Better Breakfast Month! We've always been told that breakfast is the most important meal of the day. This is because the word breakfast actually means "break-fast". After a long rest of 7-10 hours, your body needs food upon waking to replenish your energy levels and nutrients.
3 Benefits of a Good Breakfast:
1.) Eating in the morning helps you to feel more awake and alert throughout the day. Your focus is better and you can handle more tasks in less time than if you were on an empty stomach.
2.) Starting the day with a meal helps to prevent energy slumps later on. Eating when you wake up helps to regulate your blood sugar levels, so you won't feel jittery before that mid-morning meeting or class.
3.) Having breakfast reduces the chance that you will engage in mindless snacking later in the day. Since you'll feel satiated from your well-balanced meal, you won't feel the need to pick at foods that are less nourishing for your body.
On-The-Go Breakfast Ideas
It's clear that breakfast has benefits, but what if you are pressed for time in the morning and can't think of a satisfying meal on the fly?
The next time you feel you're short on time, try enjoying some of these well-balanced ideas for you and your family:
Homemade Greek Yogurt Parfait: Using your favorite flavor of low fat Greek yogurt, add blueberries, granola, and walnuts. To make this even easier in the morning, portion out these toppings the night before and leave them separate in a Ziploc bag.
Peanut Butter Banana Toast: This childhood favorite is still a go-to, as it's tasty as well as nutritious! Toast two slices of whole wheat bread, and top with all-natural peanut butter and sliced banana.
Overnight Oats: This option can also be prepped the night before to make more time in the morning for other tasks. Mix oats with milk (almond or regular), and add your favorite toppings such as chia seeds, fruit, and/or nuts. Place in the refrigerator overnight and the oats will soften without needing to be microwaved. This can be topped with cinnamon or honey for extra flavor!
Egg Sandwich: This breakfast option is perfect for anyone in the family as it can be tailored for any food preference! Try topping your eggs with some sautéed spinach and peppers, and top with a little cheddar cheese. For an extra protein punch, add sliced turkey or chicken breast to the mix.
A good breakfast is one that is well balanced, and incorporates several food groups. It's important that it contains protein and fiber, so that you feel full longer and can tackle your day without hunger pangs
Your turn to take action: What's your favorite option for breakfast? Let me know in the comments below, I'd love to try it out!
Like this post? Share it!
http://brghealth.com/brg/wp-content/uploads/2017/09/Better-Breakfast-blog-pic.jpg
986
1987
Bonnie R. Giller
http://brghealth.com/brg/wp-content/uploads/2017/12/BRG_Headerwpic_2.png
Bonnie R. Giller
2017-09-08 09:00:26
2017-09-06 08:35:42
Wake Up to a Better Breakfast!