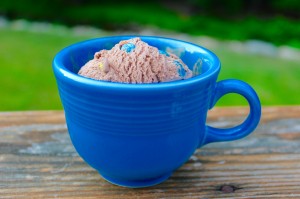 This Sunday, July 17th, is National Ice Cream Day!  Not many people know this about me (although after reading this blog, thousands will) but I love ice cream.  Ice cream can be a year-round favorite, but it is enjoyed the most during the warm summer months.  With summer's heat at its peak, this is the perfect time to cool down with sweet, creamy ice cream.
We all know that most varieties of ice cream can be high in calories, fat and sugar, but that doesn't mean you should avoid it altogether.  Ice cream can (and should) be enjoyed in moderation, with no guilt!  But, if you are looking for healthier alternatives, I have put together a list of different ways you can enjoy your ice cream.
Portion Control
Sometimes you may be craving your favorite full-fat Cookies and Cream flavored ice cream and it's OK to enjoy it, just be mindful!  A serving of ice cream is about a half a cup, so portion out the half a cup into a bowl.  If you eat out of the carton, it'll be easier to eat more than one serving.   If you find it hard to portion out your ice cream, put it in a small bowl or a mug, it'll make your portion look more satisfying!
Low-Fat Options
Most companies now make healthy alternatives to your favorite ice cream to help you satisfy your sweet tooth, without feeling guilty.  Store bought ice cream brands now make low-fat, low-sugar and sugar-free options.
Frozen Yogurt
Frozen yogurt has been a social phenomenon over the last couple of years, and for good reason.  Froyo is tangy and delicious and has fewer calories than traditional yogurt.  Since it isn't made with heavy cream, it is also lower in fat compared to traditional ice cream.  It can also provide healthy probiotics for your digestive system.
Soy
If you're looking for a dairy alternative to ice cream, soy is just for you!  It is lactose-free, for those of you that are lactose intolerant, and is vegan friendly.  Soymilk also has some nutritive benefits.  It contains the same amount of protein as regular milk and contains no cholesterol.  Plain soymilk will make a tasty dessert, but some brands also make vanilla and chocolate flavored to help curb your sweet tooth!
Sorbet
Sorbet can provide you with a refreshing and light summery dessert.  From mango to strawberry to lemon, it's a delicious fruit mix that everyone can enjoy!
Make Your Own Ice Cream
Banana Ice Cream
If you love bananas like I do, then you'll love this next tip. You can make your own banana ice cream!  Banana's smooth texture and low water content allow it to become a tasty, frozen blend.  All you need to do is chop up bananas and freeze them for a few hours.  Then throw them in the blender with some almond milk and unsweetened cocoa powder for a delicious treat!  Try adding peanut butter for a nutty flavor.
Avocado Inspired Ice Cream
If you really love avocados and are feeling adventurous, try making avocado flavored ice cream. The recipe for avocado ice cream takes longer than the banana ice cream so you will have to prepare in advance.  In a blender, mix three avocados, 1½ cups of milk and ½ cup of sugar.  When it's blended, let the mixture sit in an airtight container in the freezer for 6 hours. Enjoy!
It is also important to look at the toppings you may be putting on your ice cream.  Hot fudge, whipped cream, M&Ms, and any other of your favorites will add up calories in no time! Try adding sliced fruit, almonds and walnuts for a healthier twist on your favorite sundae.
Your Turn to Take Action: How will you celebrate National Ice Cream Day?  Let me know in the comments section below.
Like this post? Share it!
http://brghealth.com/brg/wp-content/uploads/2016/07/ice-cream-in-mug.jpg
3441
5180
Bonnie R. Giller
http://brghealth.com/brg/wp-content/uploads/2017/12/BRG_Headerwpic_2.png
Bonnie R. Giller
2016-07-15 09:00:28
2016-07-13 09:15:11
We All Scream for Ice Cream!