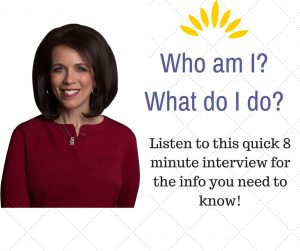 These are 2 questions that I get often when people reach out to me to inquire about my services. It makes sense. People want to know who I am, what my background is and what I actually do. This is important information before deciding whether to work with me or not.
But when I was contacted recently by AllBusinessMediaFM.com to answer these same questions, I was super excited.
They wanted to interview me and feature me on their online radio station's professional roundtable. I immediately said YES!
CLICK HERE TO LISTEN TO THIS 8 MINUTE AUDIO INTERVIEW!
If you'd rather read than listen, here's an overview of the questions that host, CJ asked me, and my answers – but I really think you should listen too:)
CJ: Please give a description of your company and the products/services you offer:
Bonnie: At BRG Dietetics & Nutrition, P.C., I provide medical nutrition therapy for individuals with disease-related therapeutic needs ranging from diabetes and cardiovascular disease to various gastrointestinal conditions. All nutrition programs are tailored to each individual patient and client's needs, lifestyle, and food preferences.
In addition, I work with clients on changing their relationship with food and their body. I help chronic dieters and emotional eaters break free of the pain of dieting to get the healthy body they love. I do this by creating a tailored solution that combines three essential ingredients: a healthy mindset, caring support and nutrition education. My goal is to instill an inclusive view of food by using the principles of intuitive eating to help my clients construct healthy habits and create behavior change, rather than simply dieting to lose weight.
Using my signature Freedom to Eat Forever™ 5 Step Intuitive Eating System, I help my clients support and honor their mind and body. The result is they make peace with food, enjoy guilt-free eating, a life free of dieting, and get the body they love.
I also offer a Nutrition and Lifestyle Coaching Program, a Diabetes Management Program and a Low FODMAP Meal Planning Program for those suffering with irritable bowel syndrome.
CJ: Tell us about the background of your business and yourself:
Bonnie: I am a Registered Dietitian Nutritionist, Certified Diabetes Educator and Certified Intuitive Eating Counselor. I am in practice for over 30 years. I have an office in West Hempstead, New York, and an online practice where I meet with clients virtually from all over the world. I work with individuals one-on-one and also have several group programs and home study programs available.
CJ: What inspired you to pursue your profession?
I took a nutrition course in college and loved learning about the nutrients in food and how it impacts our health. I have worked in the corporate setting, hospital setting and in education, in addition to running my own private practice.
Seven years ago, I turned the focus of my practice towards intuitive eating. Many people pursuing weight loss have a strong diet mentality which prevents them from sustainable weight loss. Ultimately what I have come to realize is this: No form of dieting is going to work for losing weight and keeping it off. The key to getting the healthy body you love without dieting is learning how to combine three essential ingredients: a healthy mindset, caring support and nutrition education.
NOTE: I go into detail about intuitive eating, so CLICK HERE to listen to the interview!
Other questions CJ asked me, it's worth the listen:
CJ: Take me through the process with a brand-new client.
CJ: What should somebody look for if they are looking for help with their nutrition? There's a fogginess when it comes to the nutrition industry, who is the expert in nutrition?
CJ: What programs do you offer?
All these questions are answered in this quick interview. Listen here!
If you are interested in learning how I can support you to reach your health goals, contact me here!
Like this post? Share it!
http://brghealth.com/brg/wp-content/uploads/2018/03/Who-am-I-interview-link.jpg
788
940
Bonnie R. Giller
http://brghealth.com/brg/wp-content/uploads/2017/12/BRG_Headerwpic_2.png
Bonnie R. Giller
2018-03-07 08:30:48
2018-03-06 13:30:20
Who am I, and What do I do?