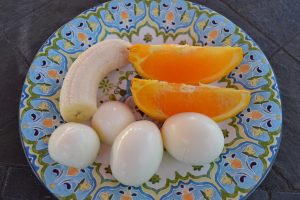 When you were a child, you were probably told, "Breakfast is the MOST important meal of the day", right? Well, I agree! Breakfast literally means "break-fast". You sleep for 8-12 hours and by morning; your energy levels are low. Breakfast provides your body with the energy it needs to start your day!
Why Breakfast?
Eating breakfast provides your body with a number of health benefits. It can:
Help you stay alert and improve your mood and ability to pay attention
Improve your overall health and your well-being.
Make you less tired and sleepy in the mid-morning hours.
Research shows that children that eat breakfast are more creative, do better in their classes, perform better on tests, and may have fewer behavior problems. Adults who eat breakfast tend to do and feel better at work, snack less, and eat more nutrients each day than adults who do not eat breakfast.
Simple Breakfast Options
Plan ahead!! There are plenty of easy, on-the-go breakfast choices that don't require a lot of time in the morning. Here are 5 simple, grab-and-go breakfast options:
Greek yogurt. Add blueberries, whole grain cereal and nuts to plain Greek yogurt for a delicious breakfast. The night before put raw almonds, blueberries, and cheerios in a Ziploc bag so in the morning all you have to do is grab your yogurt and the baggy.
Toast. Spread peanut butter on whole grain toast with sliced bananas. It's simple, tasty, and child approved.
Eggs. Hard-boiled eggs are a great grab-and-go choice to have in the house at all times. Boil a batch in the beginning of the week; peel them the evening before so they are ready to go in the morning!
Cereal. Cereal can be a wholesome, simple breakfast choice, but be sure to choose whole grain cereals, low-fat milk and add some fruit!
Oatmeal. Oatmeal is my personal favorite. It is simple to make and delicious. You can make your steel-cut or old-fashioned oats the night before so you don't have to worry about making it in the morning! If you choose to buy instant oatmeal packets, buy ones that are low in sugar and low in sodium (typically plain packages).
Breakfast Tips
Make Time. Wake up 15 minutes earlier so you do have time to make, and eat your breakfast. Greek yogurt and oatmeal require little time and you can add whatever you want to them! If you have a little more time in the morning, you can whip up some egg whites with vegetables!
Breakfast On The Go. Bring your breakfast with you! Oatmeal and yogurt can be easily taken on the go in a container and eaten easily once you arrive at work. You can even put your eggs in a whole grain wrap for your own delicious breakfast burrito!
Variety and Balance. There are various items you can choose for breakfast. You can have yogurt and granola one morning, an egg white omelet the next, cereal another and so on. Spice up your breakfast by changing up what you are having. This will ensure a variety of nutrients that you are giving your body, and also keep you excited about what meal you are starting your day with. Click here for other ways to enjoy healthy cereal.
Here are some healthy BRG breakfast recipes to try:
Vanilla Maple Overnight Oats with Pomegranate
Animal Shaped Rice Cakes or Bread
Baked Pears with Toasted Almonds and Cranberries (Add a dollop of whipped cottage cheese on top of the pear for a well-rounded delicious breakfast)
Be sure to include fruits, vegetables and whole grains in your breakfast. These foods will fill you up with fiber and keep you full all morning!
Your turn to take action: What will you do to make sure you have a nutritious, filling breakfast each morning?
Like this post? Share it!
http://brghealth.com/brg/wp-content/uploads/2017/01/DSC_0101.jpg
3072
4608
Bonnie R. Giller
http://brghealth.com/brg/wp-content/uploads/2017/12/BRG_Headerwpic_2.png
Bonnie R. Giller
2017-01-30 09:00:36
2017-01-29 16:50:10
Why I LOVE Breakfast!