Wilted Spinach Salad with Strawberries, Dates and Macadamia Nuts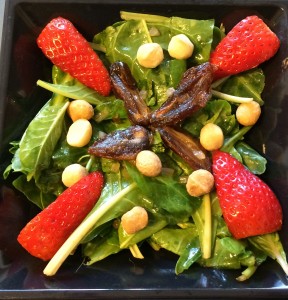 Recipe by Charna Sheinfeld, Nutrition Intern
Ingredients:

9 ounces fresh spinach leaves
8 strawberries cleaned and quartered
6 Medjool dates, pitted and quartered
1/4 cup roasted macadamia nuts
4 tablespoons olive oil
1 small shallot, finely minced
2 tablespoons red wine vinegar
1 teaspoon maple syrup
Instructions: 
Place spinach in a large bowl. Prepare the sliced strawberries and nuts on the side to be used immediately after spinach is dressed.
In a small skillet heat olive oil. Add minced shallot and dates and cook until shallot is slightly softened 2-3 minutes.
Add red wine vinegar and swirl to incorporate. Heat for one minute longer.
Turn off the heat, add maple syrup.
Pour warm dressing with dates over spinach and toss gently.
Add strawberries and nuts.
Serve immediately.
Serving Size: 1.5 cups
Yield: 8 servings
Nutrition Facts: 
Calories: 150
Total Fat:  10 gm
Saturated Fat: 1.5 gm
Monounsaturated Fat: 7 gm
Polyunsaturated Fat: 1 gm
Cholesterol: 0 mg
Protein: 2 gm
Carbohydrate: 17 gm
Dietary Fiber: 3 gm
Sodium: 25 mg
Bonnie R. Giller, MS, RD, CDN, CDE  • BRG Dietetics & Nutrition, P.C.
brghealth.com • (516) 486-4569