Nutrition Counseling and Meal Planning
For Medical Conditions, Habit and Behavior Change, and Reaching Your Natural Healthy Weight.
All of our counseling services are available in our office, via phone, and via Skype. 
For more information and rates please contact us.
Individual Nutrition Counseling
Initial Nutrition Evaluation and Consultation
This one hour session includes one-on-one counseling for Medical Nutrition Therapy for various diseases and/or conditions. We will review your medical history, recent lab data, body weight history, in-depth diet history, usual food intake from the time you wake up in the morning until bedtime, food preferences and triggers for overeating, if applicable. We will assess your learning needs, develop health and fitness goals and begin nutrition education.
Comprehensive Nutrition Education
This one hour session follows the initial visit. We will educate you on your new meal plan that was designed specifically to meet your nutritional needs, lifestyle and food preferences. You will receive a customized meal pattern that specifies portion sizes, appropriate food combinations and a sample menu for a complete day, including breakfast, lunch, dinner and snacks. Your meal plan will incorporate suggestions from your favorite restaurants if you eat out frequently or take-out your meals.
Nutrition Counseling – Follow Up
Half-hour follow up visits are scheduled to review your progress in making lifestyle changes and meeting your goals, modify the meal plan as needed, and learn behavior modification techniques to assist you in changing your eating habits. You will explore why you make some of your food choices. Discover hidden traps that many people "fall into" along with many common myths concerning food. Learn how to overcome the barriers to good health. Nutrition education will be provided, tailored to your medical and nutritional needs and an exercise plan will be developed.
---
Group/Family Nutrition Counseling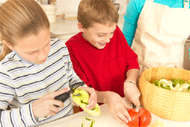 Includes Initial Nutrition Evaluation and Consultation, Comprehensive Nutrition Education for the Family, and Nutrition Counseling Follow Up appointments tailored to the specific needs of the family as a whole, not each individual.
---
Nutrition Check-Up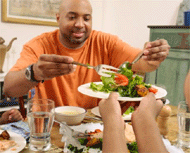 An annual nutrition check-up is just as important as your annual physical at your primary care physician. During this half-hour nutrition check-up, we will assess how well your nutritional needs are being met by your current food intake and eating habits. This will help you to make sure you are on track to preventing disease and improving your overall health. Nutrition recommendations will be made at the end of the visit to help you meet your health care goals.
---
Email Support
Free email support provided for one month with the purchase of Individual or Group/Family Nutrition Counseling. After the first month, you can receive unlimited email support (within reason) for only $50/month.
---
"Working with Bonnie has been wonderful for me. I feel great and she has educated me on how to make lifestyle choices. She also keeps me on track!" — Meg, Long Beach, N.Y.