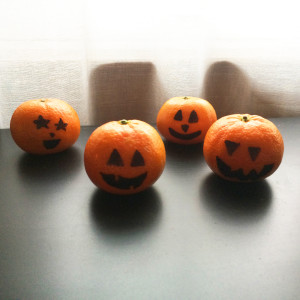 When Halloween time approaches, we all instantly think of costumes, trick or treating, pumpkin carving, and, of course, candy and sweets. Besides the fun costumes, the main reason kids love Halloween is because of the massive amounts of candy they receive from trick or treating. Did you know that on average, kids eat about 50-100 pieces of candy on Halloween? That's a lot of sugar, potential cavities and tummy aches!
Whether you're out and about tricking or home dishing out the treats, these 5 tips will help you to stay mindful amidst all of the fun:
Eat Before You Treat
Be sure to not trick or treat on an empty stomach, as this can lead to overindulging on candy, and no one wants a Halloween stomachache! Before chaperoning the family on your trick-or-treat journey, it's a good idea to have a full, nutritious holiday meal. This way everyone is full before heading out, and will be less likely to overeat candy.
Make the Fun, Fun Sized
It's important to not deprive yourself and to enjoy the evening! If you are craving a piece of candy, choose the fun-sized option. Fun-sized candies have a fraction of the fat and calories per package, but still provide the treat you're looking for. This way, both you and your children will get a sugar fix without over-doing it.
Go Dark
Dark chocolate contains 70% or more cocoa than light chocolate. Cocoa has been shown to contain antioxidants, and can help to lower cholesterol. So, if you need a little chocolate pick-me-up, dark chocolate is the way to go!
Keep the Treats Happy and the Tricks Spooky
Don't be spooked about handing out candy alternatives to your family and neighborhood. Other snack options such as individual bags of pretzels, trail mix, small boxes of raisins, packaged pumpkin seeds, small boxes of cereal, or granola bars can be fun and delicious alternatives to that sugar-laden bar.
Ditch the Giant Pillow Case
Carrying a small bag while trick-or-treating will encourage your children to take only one treat from each house, instead of a handful. This will also allow them to be able to visit more houses around the neighborhood, which gets in more exercise!
Halloween is also the perfect opportunity to go out and get a good walk. Walking around the neighborhood, even for just half an hour, can count towards your exercise for that day. This way, you won't have to stress about fitting in your exercise while also having plenty of time to go trick or treating with your kids! Also, it'll feel good to get some fresh air.
Your turn to take action: What will you do to make sure that you are having a happy and healthy Halloween for you and your family?
Like this post? Share it!
http://brghealth.com/brg/wp-content/uploads/2015/10/Halloween-Pumpkins.jpg
2448
2448
Bonnie R. Giller
http://brghealth.com/brg/wp-content/uploads/2017/12/BRG_Headerwpic_2.png
Bonnie R. Giller
2017-10-27 09:00:18
2017-10-24 13:53:50
5 Tips For a Happy and Healthy Halloween!