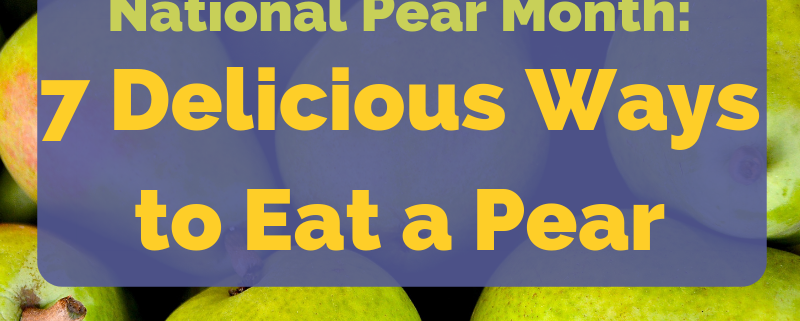 Happy National Pear Month! Did you know that there are over 3,000 varieties of pears grown around the world? Pear trees were first brought to the United States in the 1800s by colonists. It was found that the trees brought to Oregon and Washington were the ones that thrived and, therefore, those two states are America's top producers!
Pears are well liked because of their buttery texture, delicate flavor and long shelf life. Theyare not only delicious, they are extremely nutritious! National Pear Month is the perfect time to learn more about this delicious fruit!
Pear-y Nutrition
Pears are rich in many different nutrients, making it a very well-rounded fruit.
Fiber – keeps you feeling fuller for longer and keeps your digestive system functioning properly.
Vitamin C – aids in keeping your immune system healthy – perfect for the winter time!
Vitamin K – plays a role in your body's ability to clot your blood.
Potassium – works with sodium to keep your blood pressure stable and aids in muscle contractions.
7 Perfect Pear-y Ideas:
Pear-butter Sandwiches: Spread peanut butter thinly on two slices of whole grain bread. Slice a pear thinly and layer between the slices of bread. Enjoy!
Pear Sticks: Slice firm pears into long stick/french fry shapes. Serve with peanut butter, yogurt, or even caramel for dipping as a healthy snack!
Yogurt Parfait with Pear: Place pear chunks in the bottom of a glass and add layers of plain or vanilla low-fat yogurt, granola, and more pears for a nutritious breakfast or snack that you'll love! If you're trying to get your kids in on the pear-action – this recipe is delicious with vanilla or chocolate pudding.
Pear Salad: Want to spice up your salad? Try topping the salad with pears chunks, slices, or sticks for some added nutrition that matches very well with Ranch or any other dressing!
Pear Roll-Ups: Cut up a pear and place it in a tortilla with turkey, tomatoes, and lettuce and roll up for a quick on-the-go lunch!
Baked Pears: Cut pears into thick slices and place in a bowl. Sprinkle cinnamon on top and bake until pears are tender. Serve warm, or pair with granola or ice cream for a quick and special dessert!
Pear Oatmeal: Heat ½ cup pear chunks, water or milk, and oats on the stove or in the microwave. Sprinkle with cinnamon and as a winter breakfast or snack!
As you can see above, there are so many ways to enjoy pears! Don't be afraid to get adventurous this month and incoporate pears into your meals.
Your Turn to Take Action:Which recipe will you try this National Pear Month? When you do try one, be sure to come back and comment your thoughts!
Like this post? Share it!
http://brghealth.com/brg/wp-content/uploads/2018/12/FE0FC81B-C290-4459-9E3E-7E99DB9C09F7.png
800
800
Bonnie R. Giller
http://brghealth.com/brg/wp-content/uploads/2017/12/BRG_Headerwpic_2.png
Bonnie R. Giller
2018-12-10 21:09:45
2018-12-10 21:09:45
7 Delicious Ways to Eat a Pear