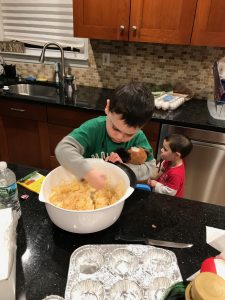 Nothing is more fun to do during the cold winter months than baking with your family. February has been designated as National Bake for Family Fun Month and that's reason to celebrate! Baking is a great way to spend valuable time with your family, from selecting and shopping for ingredients to baking and enjoying the finished product together.
Baking Up Memories
When I was growing up, my family called me "Bonnie the Baker" because I loved to bake. I'd do the baking, and my mom would do the cleaning up. We made a great team!
Some of the best memories I have with my children revolve around baking with them. When they were young children, I loved sharing family recipes with them and they loved learning our family's baking traditions. Now that they're older, they love to continue the tradition, and now my grandsons love to bake too!
Many family traditions revolve around certain recipes, whether it's the seasonal desserts for the winter celebrations or the savory breads eaten year-round. Purchasing store-bought delicacies is often easiest with everyone's busy schedules, but no store-bought baked good tastes as delightful as one baked in your home kitchen. Love is an ingredient you can only find at home!
The Science of Baking
Are you familiar with all the science that goes on when you bake? Many things can occur to foods as they're baked, depending on the ingredients:
Fats melt, giving the product a flaky, tender texture.
Gases form and expand and liquids evaporate, creating air pockets, yielding a fluffy product.
Caramelization and the Maillard reaction occur on the exposed areas, browning the food.
Often when we think of baked goods, we think of breads or cakes, but anything cooked in an oven using dry heat cooking methods are baked goods. Dry heat cooking methods use only hot air to cook the food, such as broiling, and moist heat methods use hot liquids for cooking, such as stewing.
3 Family Baking Ideas
Not sure how to start celebrating? Here are 3 ideas to get you started!
Switch up your traditional recipes. Add more fruit to your baked goods, by swapping some of the oil (fat) and sugar for applesauce, bananas, prunes, etc. You'll end up with a slightly different product with the texture/taste changed, but it's still just as good! Since recipe modifications can be tricky, you can use this as a way to experiment with your family and figure out what works together and what you all like. Remember, baking is a science!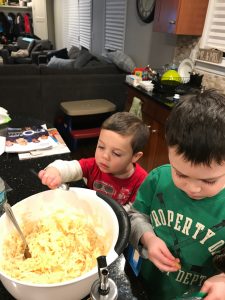 Next time you're at the grocery store, pick out a non-traditional item, like veggies, you would like to put in your baking recipe. It could be zucchini to make zucchini banana bread or butternut squash to make a butternut squash-apple coffee cake. You and your family can make this into a game to see who can think of the best/most interesting baked good!
Try all different types of flour in your recipes to change up the taste and texture. Most people cook with white flour, but there's also wheat, quinoa, buckwheat, almond, coconut, and more. Check out a previous blog of mine that explains some of the different flours. As a family, experiment with the different flours to see what you like and what baked goods you can make!
February is a time where you likely don't mind having the oven on to heat up your kitchen. Enjoy the time you have to spend together and get cooking!
Your turn to take action: What recipes will you try for Family Baking Month? Let me know in the comments below.
Like this post? Share it!
http://brghealth.com/brg/wp-content/uploads/2018/01/Evan-and-Zach-cooking-1-e1517443077761.jpeg
4032
3024
Bonnie R. Giller
http://brghealth.com/brg/wp-content/uploads/2017/12/BRG_Headerwpic_2.png
Bonnie R. Giller
2018-02-05 09:00:24
2018-01-31 19:00:37
Baking Up Memories in February