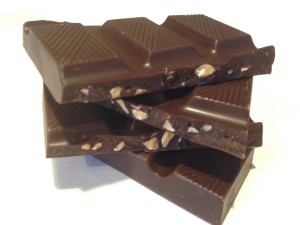 One of the beautiful things about being an intuitive eater is being able to eat what I love! I don't have to worry anymore about whether eating a particular food will cause me to gain weight or not.
One of the doubts I often hear from my clients is whether or not they will actually choose nutritious foods once they give themselves permission to eat what they love and desire when they are hungry. And I tell them YES, you will. Once you give yourself that unconditional permission to eat, you will find that you will gravitate towards lighter healthier foods, and your meals will be well-balanced nutritionally. It's just something that happens when you begin to experience how great you feel eating these foods.
You will also find that the heavy, less healthy foods don't seem so desirable after a while. The physical and/or emotional discomfort from eating those foods becomes burned in your memory, and you won't want to repeat.
This doesn't mean there is no place in your eating for what I call "play foods". Of course there is.  Let me share a recent story.
My husband and I were on vacation in Las Vegas two weeks ago. As we were walking through one of the casino hotel's shopping areas, we stopped at the Godiva Chocolate store to watch them make chocolate dipped strawberries. We walked inside and an employee was giving out small samples of chocolate covered caramels. These were very small, similar to the size of a small paper clip. The employee put one in my palm; I picked it up and took a bite. I savored it, allowing it to melt in my mouth so I could taste the chocolate and the caramel. I then took a second bite. It was delicious. It hit the spot.
I took notice of how other people were eating these chocolate samples. Some took one to two bites as I did, but others popped it into their mouths. I overheard a man saying to his wife that he could eat a few more. His wife said one was just enough for her. What was the difference, why did he need more and why didn't she? I noticed he was one of those people who popped it into his mouth without even tasting it. It was down before he could even think about what he just ate. His wife, on the other hand, took two bites and savored each one.
My point is…eating healthy doesn't mean depriving yourself of your favorite foods or treats. Part of learning to become an intuitive eater is learning to be a mindful eater. Enjoy every bite you take, with purpose, and you will have great pleasure in your foods, those that are nutrient dense and those that are "play foods".  Tune into your belly as you are eating, and let your stomach be your guide. You will know when you have had just enough.
The more you practice these techniques, the more intuitive you will become, and you will see, weight loss will start happening, without you worrying about the scale and about the effects foods will have on your weight.
Do you want to discuss how you can become a mindful eater?  Just click here and we will set up a time.
Like this post? Share it!
http://brghealth.com/brg/wp-content/uploads/2014/08/Chocolate-bar-chunks-with-almonds-2.jpg
2448
3264
Bonnie R. Giller
http://brghealth.com/brg/wp-content/uploads/2017/12/BRG_Headerwpic_2.png
Bonnie R. Giller
2014-08-06 09:30:51
2014-08-06 09:14:15
Being Mindful With Godiva Chocolate