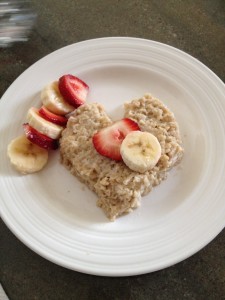 As children we all grew up hearing the expression, "Breakfast is the most important meal of the day."  A new study was conducted by US Researchers that proves that men over the age of 45 who DO NOT eat breakfast have a 27% higher risk of a heart attack or coronary heart disease than men that DO eat breakfast.
According to Medical News Today, the study had researchers analyzing food frequency questionnaires completed by 26,902 male health professionals between the ages of 45 and 82 years old.  They tracked their health for 16 years and at the start of the study, the men were free of heart disease and cancer.  Following up on the study, 1,572 men experienced non-fatal heart attacks or died of coronary heart disease.  After analyzing the research, they concluded men over the age of 45 who didn't eat breakfast had a 27% higher risk of a heart attack or coronary heart disease than men who did eat breakfast.
It's very easy to get caught up and forget to eat breakfast.  If you are on the go in the morning and are rushing to catch a train or to beat traffic, you may grab a to-go cup of coffee and call it breakfast.  However doing this does not provide the nutrients your body requires and you are putting yourself at risk.  You may overeat later on in the day since your breakfast consisted only of a beverage.
Here are some tips for a healthy quick breakfast:          
–          Make Time. Wake up 15 minutes earlier and open up a Greek yogurt or microwave a delicious bowl of plain instant oatmeal and flavor both with fresh fruit, whole grain cereals or nuts.  If you have a little more time in the morning, whip up some egg whites with veggies in a scramble or omelet.  Including fruits, vegetables and whole grains in your breakfast is important because these foods will fill you up with fiber and keep you hunger-free until lunchtime!
–          Breakfast On The Go.  Bring your breakfast with you.  Oatmeal and yogurt can both be easily taken on the go in a container and eaten easily once you arrive at work.  You can even put your egg dishes in a whole grain wrap for your own delicious breakfast burrito!
–          Variety and Balance.  There are various items you can chose for breakfast.  You can have yogurt and granola one morning, an egg white omelet the next, cereal another and so on.  Spice up your breakfast by changing up what you are having.  This will ensure a variety of nutrients that you are giving your body, and also keep you excited about what meal you are starting your day with.  Even changing up your cereal can make breakfast seem different from morning to morning!   Click here for other ways to enjoy healthy cereal.
These simple and quick tips can help reduce the risk of a heart attack or coronary heart disease.  If you aren't a breakfast eater, or you are too busy to eat it, try incorporating these tips into your daily routine.
Your turn to take action: What will you do to make sure you have a healthy breakfast each morning?
Like this post? Share it!
http://brghealth.com/brg/wp-content/uploads/2013/07/Oatmeal-heart-and-fruit.jpg
3264
2448
Bonnie R. Giller
http://brghealth.com/brg/wp-content/uploads/2017/12/BRG_Headerwpic_2.png
Bonnie R. Giller
2013-07-29 14:21:55
2013-07-29 14:21:55
Breakfast... Is it the Most Important Meal of the Day?