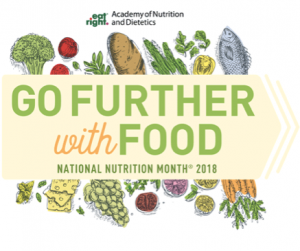 It's that time of the year again! With March comes warmer weather and more hours of daylight, but it also brings with it National Nutrition Month®. Each year, the Academy of Nutrition and Dietetics hosts NNM® to promote healthy lifestyle habits. The theme for this year's National Nutrition Month® is Go Further with Food, which encourages everyone to plan their meals ahead in order to ensure they are having the most nutritious and cost-effective meals possible. This not only saves money, but reduces food waste as well!
Did you know that National Nutrition Month® actually began as National Nutrition Week? In 1973, the first campaign was launched with the theme "Invest in Yourself—Buy Nutrition". Since then, this event has gained a massive amount of popularity. Because of this, it was requested that the week be extended into a full month of nutrition education and awareness. This change took place in 1980, and National Nutrition Month® slowly began to evolve into the occasion that it is today.
National Nutrition Month Takeaway
This year's National Nutrition Month® focuses on many key points. Here are 5 of the most important ones:
1. Include All Food Groups. Be sure to incorporate foods from all food groups into your meals so that you are eating a variety of nutrients. This will also help to keep your meals interesting and fun! If this sounds like it may be difficult, try listing out your favorite foods and then putting them into their food group category. From here, see how many meals you can come up with using one food from each group. You can even try this with the whole family, and see how many different combinations you can all come up with together!
2. Check Your Fridge and Pantry. Take an inventory of the foods you already have at home before buying more. This will help to reduce waste, and also ensures you are not spending money on items you already have. The best way to do this is to go through your refrigerator and cabinets and compile a list. From here, see what meals you want to prepare and only add those additional ingredients needed to your shopping list.
3. Plan Ahead. Plan your grocery list based on the meals you want to prepare. This way, you will make sure that you are going to use all of your groceries before they could go bad. Try finding items that are on sale, and bulk buying them to make in several meals throughout the day. If you are going to repeat foods within the same day, be sure to prepare them in fun and different ways!
4. Portion Sizes. As always, portion sizes are important to pay attention to! They help guide you in making healthful decisions by telling you how many nutrients are in each portion. You can use them to make sure you are getting enough energy and nutrients from your food, to ensure you "go further with food". They are also important in reducing food waste as you'll only be making and eating what you need!
5. Engage In Body Movements. Staying active not only keeps us healthy physically, but mentally as well! Use your activity time to destress and practice self-care. You may also choose to make your exercise time a group activity, which gives a great opportunity to catch up with friends and family.
This month, take the time to visit eatright.org to actively participate in National Nutrition Month® and use these ideas to create a mindset that can be carried throughout the rest of the year!
Your turn to take action: How will you incorporate National Nutrition Month®'s theme into your daily routine? Let me know in the comments below!
Like this post? Share it!
http://brghealth.com/brg/wp-content/uploads/2018/03/Screen-Shot-2018-03-01-at-8.08.19-PM.png
365
437
Bonnie R. Giller
http://brghealth.com/brg/wp-content/uploads/2017/12/BRG_Headerwpic_2.png
Bonnie R. Giller
2018-03-02 09:00:32
2018-03-02 12:08:04
Go Further with Food this Month