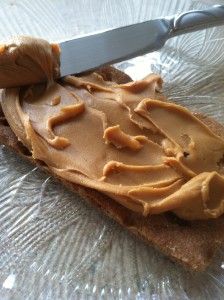 Did you know that the average American eats three pounds of peanut butter per year? How about that one 12-ounce jar of peanut butter contains about 540 peanuts? Peanut butter consumption is so high and widespread there is an entire month dedicated to celebrating it!
November is National Peanut Butter Month, which makes now the best time to learn more about peanuts!
A Nutritional Nut
What you may not know about peanuts is that they are not actually a nut, they are considered a legume! They are a great source of plant-based protein!  Peanuts are also high in healthy fats, which can reduce the bad cholesterol (LDL) and raise the good cholesterol (HDL) in your blood. They are also good source of vitamins and minerals, like:
Fiber

 – keeps you feeling fuller for longer and helps regulate your digestive tract. There are 2g of fiber in one serving of peanut butter.

Vitamin E

 – is an antioxidant that can rejuvenate skin cells and help you maintain a healthy glow. Peanut butter provides 3mg of this powerful antioxidant.

Potassium 

– works with sodium to help regulate your blood pressure. Peanut butter provides 200 mg.
Choosing a Healthy Peanut Butter
It is important to know that not all peanut butters are created equal. When choosing a peanut butter, there are 3 things you should look for when reading the label:
1. Added oils. Many companies will add oils to the peanut butter for a better consistency. However, these oils can add additional saturated fats to the butter.
2. Added Sugar. Sugar is added to peanut butter for a more palatable experience. The amount of added sugar ranges depending on the brand. Choose a peanut butter that is lower/has no added sugar.
3. Salt content. Both commercial and all-natural peanut butters will add salt for taste. However, similarly to sugar, the added salt content varies depending on the brand, which is why it is important to look at the food label!
4 Fun Ways to Add Peanut Butter to Meals
Having your standard peanut butter and jelly can become a bit boring after awhile. Check out the list below for interesting ways to incorporate peanut butter into your meals:
Dip your fruit in peanut butter f

or a fun twist on a traditional snack.

 Apples and bananas pair wonderfully with peanut butter.

Celery does as well if you want to switch it up!

Add peanut butter

into your

overnight oats

for an easy and delicious twist to a new favorite.

The peanut butter will add more fiber

and increase the flavor.

Blend peanut butter into your smoothie for added protein that'll make your smoothie keep you fuller for longer. It's the

perfect addition to any smoothie!

Spread peanut butter on toast, pancakes, waffles or any other type of breakfast grain in place of butter. This adds all the flavor you want with protein, fiber and many vitamins and minerals!
It's important to remember that peanuts are a big 8 allergen. Keep this in mind if you happen to bring food with peanuts/peanut butter to work or school!
Your Turn to Take Action: How do you enjoy eating peanut butter? Let me know in the comments below!
Like this post? Share it!
http://brghealth.com/brg/wp-content/uploads/2013/11/PB-on-Cracker-e1383939550912.jpg
2592
1936
Bonnie R. Giller
http://brghealth.com/brg/wp-content/uploads/2017/12/BRG_Headerwpic_2.png
Bonnie R. Giller
2018-11-02 09:00:05
2018-11-01 21:41:19
Go Nuts In Celebration of National Peanut Butter Month