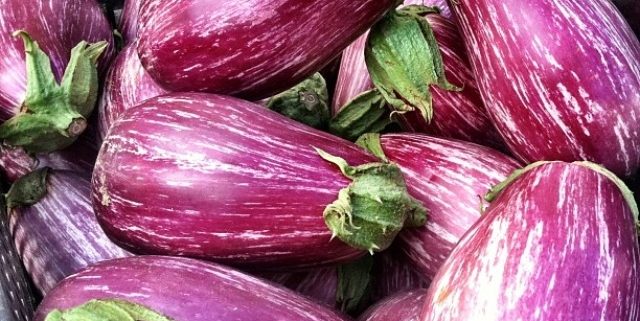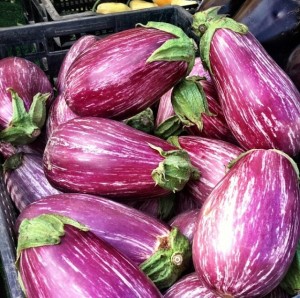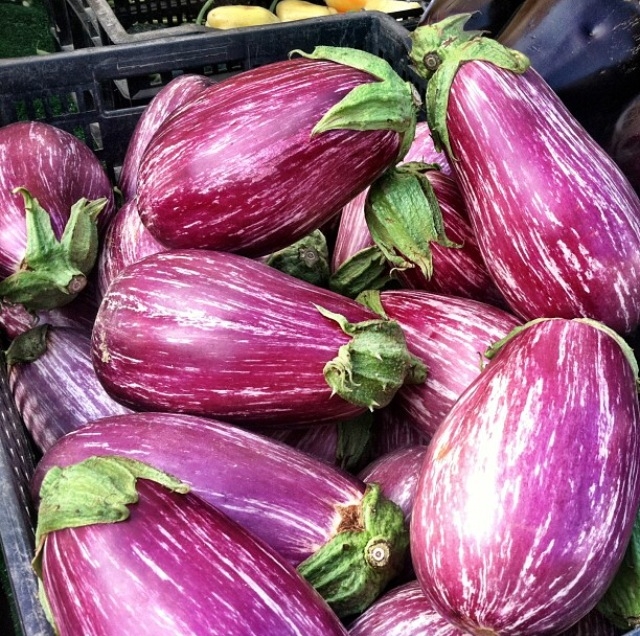 Eggplant's Excellence
By Charna Sheinfeld,  Nutrition Intern
There's no mistaking those shiny purple oblong shaped veggies for anything else besides eggplant! Eggplant, or aubergine, as it is referred to by our friends "across the pond, is extremely in season during July through October. Because of its meaty texture, it is often used as a vegetarian substitute, or even just as a way to fill up any meal. Because of their mild and slightly bitter taste, eggplants are extremely versatile. They can be roasted, sautéed, grilled, and added as a complement to many dishes, or be highlighted as the main component of a dish. Where I live in Israel, this hearty vegetable occupies a strong part of the cuisine. In fact, a joke is said about Israeli girls that they are not ready to get married until they know how to cook an eggplant 100 different ways!
Eggplant's nutrients support heart health. Some of these nutrients include vitamin C, vitamin B6, potassium, and various antioxidants. The phytonutrients in eggplant work to lower blood cholesterol, and improve blood flow. One such phytonutrient that is found in large amounts in eggplant, is Nasunin. Nasunin is a powerful antioxidant that protects cell membranes from damage, by binding to free radicals. In addition, nasunin has been found to protect the fats in the cell membranes of the brain, from free radicals. This action helps prevent mental disorders that are due to age, as well as improving overall memory.
Eggplant can also be helpful for weight management and satiety. The compounds in eggplant work as bulking agents when they enter the digestive system, which causes an increase in satiety and a decrease in appetite. Because eggplant is quite low in calories at only 20 calories per cup, it sure it a great food to add to your menus.
Try out the following two original new recipes and let me know how you like them:
Ricotta Filled Eggplant Rollups
Roasted Eggplant and Heirloom Tomato Salad
Like this post? Share it!
http://brghealth.com/brg/wp-content/uploads/2016/07/Farmers-market-eggplant.jpg
636
640
Bonnie R. Giller
http://brghealth.com/brg/wp-content/uploads/2017/12/BRG_Headerwpic_2.png
Bonnie R. Giller
2016-07-05 13:00:19
2016-07-05 14:15:13
July Monthly Morsels